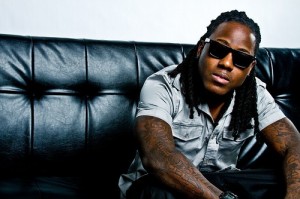 Hip-hop artists tend to brag about how many possessions they have acquired since becoming famous, and that's not limited to material goods. From products to people and beyond, objectification is big in urban music right now. Bucking that trend, though, is one artist who still chooses to focus on inspiring another generation with stories of life before the fame. His name is Ace Hood, and today we're excited to share his new video for "Before The Rollie."
On "Before The Rollie" Ace Hood, accompanied by an extra verse from Meek Mill, dives deep into his history to share with fans the struggles he faced while crafting his now internationally recognized sound. Mill adds his own perspective to the tale, but the message that success does not come overnight is the same. Think of it as the road that leads to all those manifestations of success that other rappers boast about.
The video for "Before The Rollie" reiterates the narrative of both Hood and Mill starting from the bottom, with visuals that build from street performances in rough parts of a city to far classier settings as the track progresses. It's a structure meant to reflect the journey both emcees have taken, and though some of what you see is pretty stereotypical for hip-hop videos, it's an idea that works quite well. You can view the video below.
Ace Hood released "Before The Rollie" along with a dozen additional tracks on his July release, Trials And Tribulations. If you enjoy this song and want to hear more of his work, head over to iTunes and pick up the record.