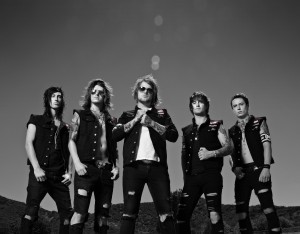 UK rockers Asking Alexandria are bringing their notorious road show back to North America this fall for a headlining run alongside All That Remains, Sevendust, For Today, and Emmure. The tour is the second of the fall for the band, following their upcoming run with rock legends Korn.
The latest outing from Asking Alexandria will see them stopping in over a dozen cities between October 25 and November 22. The tour is the first official headlining run for the band since the release of their new album From Death To Destiny, which hit stores in the beginning of August. You can view the full routing below.
Asking Alexandria have made headlines numerous times for their onstage antics, including everything from drunken rants about the state of music to epic mosh pits that leave concert goers feeling sore the next day. The heyday of '80s hair metal is alive and well at these performances, and this tour is highly recommended to anyone who fondly recalls those glam days. You can view footage from previous performances at the end of this post.
10/25 Dallas, TX @ KEGL Freakers Ball
10/26 Lubbock, TX @ KFMX Freak Fest
10/27 San Antonio, TX @ Backstage Live
10/29 Nashville, TN @ War Memorial Auditorium
10/30 Knoxville, TN @ Club NV
10/31 Atlanta, GA @ The Masquerade
11/1 Charlotte, NC @ Amos Southend
11/2 Lancaster, PA @ Freedom Hall Convention Center
11/3 Poughkeepsie, NY @ Mid Hudson Civic Center
11/5 Buffalo, NY @ Rapids Theatre
11/6 Washington, DC @ 930 Club
11/8 Flint, MI @ Machine Shop
11/9 Milwaukee, WI @ Eagles Ballroom
11/10 Cleveland, OH @ Wolstein Center
11/13 Grand Rapids, MI @ The Orbit Room
11/14 St. Louis, MO @ The Pageant
11/15 Memphis, TN @ Minglewood Hall
11/17 Tulsa, OK @ Brady Theater
11/19 Grand Junction, CO @ Mesa Theater
11/22 San Diego, CA Soma