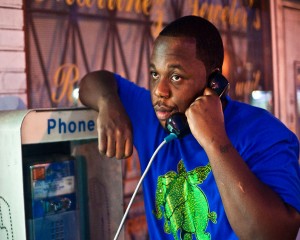 As of this week, Skweeky Kleen has spent 119 weeks on our Urban Best of the Best chart, reaching #1 twice, for a total of 14 weeks. We think this speaks to the DMV (DC/Maryland/Virginia) rapper's irresistible hooks, clever lyrics, and impressive flow, and for these reasons, we're calling him our Artist of the Week.
Skweeky (aka Eniola Akinkuowo) is hungry and driven, an ethos reflected in songs like "Get Mine," "Coming Right Back," and "I'm Coming." "The only thing on my mind is to take it to the top," he spits in the latter. But the man takes a message so common in hip-hop – the desire to succeed – and makes it feel fresh by inserting personal details within a compelling narrative. "Get Mine" is an anthem of personal triumph, set in Skweeky's immediate past and present. There's no single moment of victory – his continued struggle alone is the triumph in this tale. The song finds him "on the road to fortune…gotta keep on moving," all while drawing strength from his DMV partners. "Watch me make it happen."
On top of that, there's a complex musicality driving these songs. Skweeky incorporates a diverse set of influences from different genres – elements of hard rock, jazz, ska, intertwine with steady beats and latin rhythms alike. The sounds elevate the lyrics even further and again set Skweeky Kleen apart from many of his contemporaries. Check out "Coming Right Back" below.
"Who says I ain't the best coming out the DMV?" Not us.