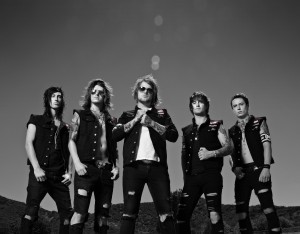 Talk about a mega tour! Asking Alexandria have announced North American tour dates this spring with August Burns Red, We Came As Romans, Crown The Empire, and Born Of Oasis on the "Break Down The Walls" tour. While exact dates haven't been announced, fans can expect the tour to run from March to April, and according to Asking Alexandria's Ben Bruce, the tour will sell out.
Speaking about the tour, Bruce says "America, we are coming for you. It's been a while since we have seen your beautiful faces, but we are back this March with a line-up that takes us right back to our roots. This is the most dynamic package that we have ever put together and we can't wait to come and play for you guys. Expect our biggest and best production, our longest set to date and more rock n' roll antics and debauchery than ever before. Get your tickets ASAP as this shit will sell-out fast. come hang out with us. We will see you soon."
Tickets go on sale Friday, December 20th at 10am PST.
More like this:
Asking Alexandria Debut Killing You
Metal Monday: Metal Covers Of Non-Metal Songs
We Came As Romans Release Glad You Came Video