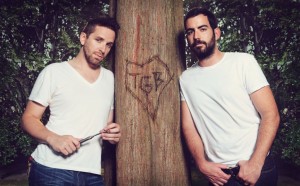 With a loving, "Thanks jerks, we're out," The Gay Blades officially announced their breakup via Twitter, Facebook, and Instagram (because it's hard to get closure without fancy photo filters) earlier this week. The goofy trash-pop duo will certainly be missed, but they're just one of a score of bands who gave up the ghost this year. And so, as 2013 comes to a close, we'd like to bid adieu to some of the other acts who called it quits during these past 12 months. RIP.
The Mars Volta
In a series of tweets that started out somewhat sane and turned into an increasingly bitter and somewhat incomprehensible rant, Mars Volta frontman Cedric Zavala announced the band's end through his personal Twitter account. Zavala vacillated between genuine gratitude ("Thank u a million times over for ever giving a fuck about our band"), passive-aggressive gratitude, ("SPECIAL SHOUT OUT TO ALL THE VOLTA FANS WHO FLOODED WARNER BROS FACEBOOK PAGE AND GOT NOTHING IN RETURN!"), and utterly confusing analogies ("What am I suppose to do be some progressive house wife that's cool with watching their partner go fuck other bands? We owe it 2 fans to tour"). It's probably good that he's moved on to something else.

Civil Wars
Of the band breakups that took place in the last 12 months, the Civil Wars may have had the least… civil. Citing "irreconcilable differences of ambition," the country duo of Joy Williams and John Paul White split halfway through their first-ever European tour. It was a messy conclusion to a truly adorable success story, but it did make their heartbreaking sophomore effort – which was released postmortem – all the more bittersweet.
The Postal Service
Although Ben Gibbard and Jimmy Tamborello released just one full-length record and toured just twice for three month spans during the 12 years they collaborated together, the Postal Service were one of the most beloved bands from the new millennium. Buoyed in part by the runaway success of Death Cab for Cutie's Transatlanticism, their debut LP went platinum while the duo wasn't even performing together. And while rumors of a new album swirled at the beginning of 2013, the pair played their final show together in August of this year. At least we can count on Owl City to rip them off for years to come.
My Chemical Romance
The award for most out-of-left-field breakup of the year goes to My Chemical Romance, who shocked fans when they announced their split via a brief post on their website. In fact, it caused such rampant speculation and downright anger among members of the MCRmy (Is that what they call their fans? If not, they should.) that both Gerard Way and Frank Iero had to release extended statements on the band's decision to call it a day. If you're one of the fans still reeling from the loss of these emo superstars, fear not: you can always console yourself with some MCR fanfiction.
Lostprophets
One of the more horrible news stories from the last year was that of Lostprophets frontman Ian Watkins, who was found guilty of several truly gruesome child sex offenses and sentenced to 35 years in prison. Watkins' band remained intact for nine months after the initial allegations surfaced, but by October the remaining members realized that they had no choice but to split. Which was probably a good call, since it turns out their former frontman is pretty much completely remorseless.
The Jonas Brothers
Whether because they disagreed over their musical direction (as their publicist stated) or because they were sick of being overshadowed by One Direction (which seems more likely), the JoBros just couldn't make it work anymore. But don't cry for this trio, they'll be fine. Joe Jonas is busy picking fights with Miley Cyrus, Kevin Jonas can always fall back on his reality TV career, and the little one got super handsome and started his own project. They always do land on their feet.
More like this:
Jonas Brothers Confirm Breakup
Gerard Way Comments On The End Of My Chemical Romance
Riffs, Rants & Rumors: Zechs Marquise Carries The Mars Volta Torch