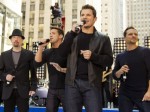 Boys bands will never die, and those needing proof need look no further than the gentlemen of 98 Degrees. Their time in the spotlight was always secondary to the fame *NSYNC and the Backstreet Boys achieved, but here we are more than a decade later and they're still chugging along with a new album and tour planned for 2013.
Taking a few cues from future tour mates New Kids On The Block, the men of 98 Degrees have announced plans to release new album entitled 2.0 later this year. This will be the first album from the group since 2000's Revelation, and it should help push a few more ticket sales for their upcoming "Package Tour" with NKOTB.
At this point, no single has been release from 2.0, so there really is no way to know what 98 Degrees have planned for us. So, instead of waiting around with nothing to do, click below and stroll down memory lane with one of their biggest hits.