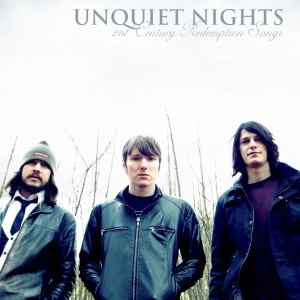 There's nothing like a little UK rock to get your blood pumping midweek. Hailing from Belfast, Ireland and extending their reach as far as London and Rome, Unquiet Nights have been gaining notoriety since their 2011 release, 21st Century Redemption Songs. Taking '90s influenced rock and roll to the next level with radio friendly riffs and gritty vocals, it's no surprise that they've seen exposure through radio play on BBC and G3 and provided the soundtrack for several television and Internet broadcasts, including ESPN.
If that weren't enough, the band has also broken into the OurStage Top 40 for Indie Rock with their song, "Someone's Love On Drugs." The charm of that single was enticement enough to check out the rest of the band's catalog. 21st Century Redemption Songs may come in at only 35 minutes, but these guys make every second count. Where "Someone's Love On Drugs" captures a softer side of the band, "We Were The Ones" charges ahead full force with unrestrained vigor, setting the tone for high energy, catchy tunes throughout, and making for an album that is simply bursting with ambition and potential.
Check out "Someone's Love On Drugs" below.
More like this: