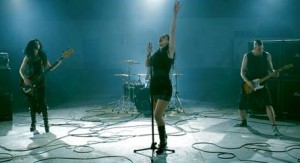 Fast rising rock band Inhale The Fall have released the official video for their new single, "Weak."
Introduced by a thumping bass line that will later guide you through the verses, "Weak" builds fast and then explodes in a flurry of female-lead alternative rock goodness that is accompanied by killer visuals. The video features a horror movie storyline mixed with brilliantly edited performance footage that perfectly showcases the lighter and darker sides of the band's personality.
Inhale The Fall have a new album and plenty of touring efforts planned. If you dig this video, spend some time on their Facebook and get to know them better.