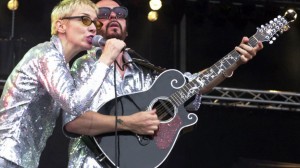 On February 9th, CBS will air The Night That Changed America: A Grammy Salute to the Beatles, to commemorate The Beatles' legendary first appearance on The Ed Sullivan Show. The show will be taped on January 27th at the Los Angeles Convention Center, and will feature an all-star lineup, including Maroon 5, John Legend, John Mayer, Keith Urban, and, reunited for the first time since 2005, The Eurythmics. Dave Stewart and Annie Lennox, whose string of hits in the 1980s as The Eurythmics place them as one of that decades most celebrated acts, last collaborated on two new tracks for a greatest hits album called Ultimate Collection.
How any of these artists reflect the legacy of The Beatles is a mystery that might puzzle historians for generations to come, if this were anything more than a ratings grab that will be forgotten almost immediately after it occurs.
Grammys producer Ken Ehrlich will also helm this special. "When it came around to booking this show, what I felt was important was to try and find those artists who not only would be able to interpret Beatles songs, but would also have an … understanding of what they meant," he said, still not explaining how those thoughts relate to the artists he ultimately selected. I guess they're all Grammy winners?
I'll probably be watching though. The Eurythmics were a good band, really, and I'm interested to see the others' takes on Beatles songs, though I hold out more hope for some than others. (h/t CoS)
More like this:
The EditoriaList: Best And Worst MTV VMA Performances
Daft Punk and Kendrick Lamar Will be Among GRAMMY Performers
Sound And Vision: Why Bieber Fever Can't Touch Beatlemania?