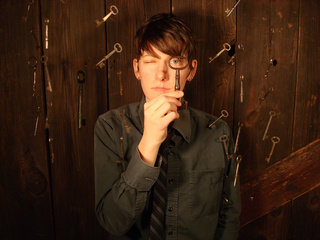 As we speak (or type, or read, or you know…communicate), Chris Pureka is getting ready to perform. We could make that statement every day and it would be false a very small fraction of the time. Apart from a break for the holidays, the extra-talented singer/songwriter has been consistently on the road, at least as far back as July of last year. This month, she'll wrap up the East Coast and then head over to Europe.
That's some hard work right there. But Pureka knows what her fans know – that the music is worth it. It deserves to be heard, and she's doing it the old fashioned way. New music business models are flying, and there are some great ideas out there, but there's no substitute for bringing the songs directly to the fans.
Pureka's songs are haunting nuggets of Americana, made especially compelling by her rich and weary voice, which alternates between whisper fragile and triumphantly clarion clear.

"Wrecking Ball" is a prime example of Pureka's own unique lyrical perspective. It's nearly gospel in the way it elucidates its metaphor.
"I pushed it hard, that goddamn wrecking ball, and I waited for the weight to swing around but it never did. And the crows they fell around my eyes and still no sign of that ball and chain. I pushed it hard, that goddamn wrecking ball. What kind of pendulum never comes back home? You start to miss it some."
Praised by Billboard, the New York Times, and Magnet Magazine, Pureka has also won repeated prizes on OurStage, including an 'MTV Needle in the Haystack' feature.
Her newest release, Chimera II, is a collection of songs both old and new that were, in one way or another, not right for her full-length LPs. Here she is performing "Like A Movie," written by friend Nicole Reynolds:
Another cover appearing on the new release is a moving take on the Rolling Stones' early classic "Play With Fire," considerably darker than the relatively mystical original. Here it is live:
Check out more Chris Pureka on OurStage.
More like this:
Soundtrax: So Long, Sweet Summer
Needle in the Haystack: Chris Pureka
Darlingside: Artist Of The Week