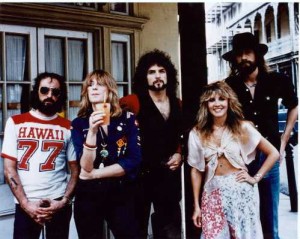 Fleetwood Mac is touring again and, unlike recent reunions for the '70s mega-stars, this one will include keyboardist, singer, and songwriter Christine McVie. McVie was one of the primary creative forces behind the groups mainstream success, contributing hits like "Don't Stop," "You Make Loving Fun," and later singles "Little Lies" and "Everywhere."
The band slowly dissolved through the end of the '80s, reuniting for President Bill Clinton's inauguration and then later for a concert special, tour, and record called The Dance, which was a big success. Christine McVie left the group after that and they carried on without her, to mixed results. Now she's back, which is nice for fans, and it's obviously better to have her there than not. But you have to wonder why she'd do this, after having successfully, and seemingly wisely, extricated herself. It could be for the money, but I'm not so sure. I think when your public identity is so firmly defined by one thing – in this case, Fleetwood Mac – it must be hard to just say it's over forever. And when you start to face mortality – McVie's ex-husband and Mac bassist John McVie has recently battled cancer – the desire to revisit that one thing must be compelling. Finally, as McVie told People magazine, the band's chemistry is truly and undeniably special. I'd like to think that it's all just for the fun of it. So while I respected her for getting out while the getting was good, I have to assume the purest motives, and respect that, too.
The tour starts September 29 in Minneapolis. Maybe it will be awesome.
More like this:
Vanessa Carlton And John McCauley Married By Stevie Nicks
Paramore Cover Fleetwood Mac Acoustic
Soundtrax: Reunion Edition
Bob Welch, Former Fleetwood Mac Singer And Guitarist, Dead At 65