I've covered a lot of studio tips and equipment reviews in this column over the past few weeks. However, when a company I know and trust comes out with a new gadget, I always tend to obsess over it. Such is the case this week. Just a month or two ago, Shure came out with some new great, professional-level studio microphones. The KSM series added two new members to its family: The KSM42 and the KSM44A.
While, companies come out with new gear all the time and it's sometimes tough to fight through the noise, I find these microphones particularly interesting. I've used many of the KSM models throughout my years of vocal recording and I've had some great results. Sure, there were plenty of applications where I didn't think the KSM's fit, but the new additions introduce some very enticing specs. A quick visit to the Shure Website will give you point-by-point information on the new features on these mics. Here are the highlights: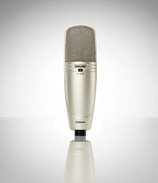 KSM44A
-Multiple polar patterns: cardioid, omnidirectional and bidirectional
-Gold plated connectors and 24-karat gold diaphragm
-Low-frequency filter (can be altered to customize what is cancelled)
-Pop filtering integrated into metal grille
For me, this mic stands out the most because of the construction and pop-filter technology.  Most impressive, though, is the ability to change the polar pattern to suit whatever recording application you need (standard vocal, acoustic sessions, etc.).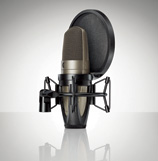 KSM42
-Polar pattern with a large sweet spot
-Pop-filter technology in the grille (as well as an including, small pop filter on shock mount)
-Internal shock mount on the actual chassis
While this model doesn't have the ability to change polar patterns, it does offer a cardioid pattern with a very large sweet spot (making mic positioning easier and the ability to have sound sources slightly off-center). The other interesting fact is the pop filter/shock mount technology contained within the actual microphone, giving added breath/transport noise prevention beyond external shock mounts and pop filters.
These mics are quite new so there is not much in the way of active feature reviews. But, I can say that the KSM series is very reliable (having used them in both studio and live settings). So, the standard specs of KSM's hold true for these new mic's in addition to the new features mentioned. While they might be out of the price-range for many home studios, their features are well worth the price if you're looking to purchase new studio mics.