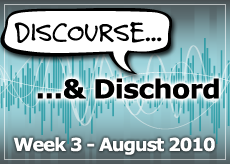 The Good
Coldplay signs huge recording contract with Universal
In fact, it's so huge the figure can't even fit on your computer monitor. Coldplay recently re-signed to Universal Music"the world's largest music publishing company. Neither has released details about the contract, but it's speculated to be one of the biggest in music history and worth millions to each of Coldplay's four band members. Looks like Apple and Moses Martin will have a big Christmas this year.
Jenny and Johnny to release album on August 31st
Sure, we're excited about this collaboration between Rilo Kiley's Jenny Lewis and her boyfriend, songwriter Jonathan Rice. The album is called I'm Having Fun Now and comes out on August 31st. (You can pre-order it on iTunes right now if you want.) But, if we're being honest, the real reason why we're writing about the new Jenny and Johnny record is so that we can share their awesome cassette tape music player with you. Listen to the songs and watch the tape move back and forth. Now we're having fun.
The Bad
Jay-Z tops Forbes list
Coming in at a cool $63 mill, Jay-Z makes the top of Forbes highest-paid rappers list for the second year in a row. According to Buzzfeed, it may have little to do with lyrical adroitness. Check out this list of the worst lyrics by the world's richest rappers. It's a hoot.
The Ugly
New Kids on the Block and Back Street Boys to tour together
If you don't know who these bands are, you're a lot cooler than us and may want to skip ahead to the next section ¦
¦OK, now that all the youngbloods are gone, OMG can you believe NKOTB and BSB are gonna tour!!! Hanging Tough AND Everybody (Backstreet's Back)? Surely there is no arena on Earth that can handle a show this rad. In conclusion, JORDAN KNIGHT!!!
And we're done.
Miscellany