Ten years ago, The Used exploded onto the modern alternative rock scene with their edgy and emotionally-charged debut album, The Used. Led by versatile frontman Bert McCracken"a vocalist who's sweet and smooth pop voice can be easily turned into an ear-shattering scream" the group made a name for themselves with singles like "Taste of Ink" and "Box Full of Sharp Objects." The Used saw further mainstream success with their subsequent records, In Love & Death and Lies For The Liars, as their shows became bigger and bolder than ever before. In 2010, they released Artwork, a strongly negative and dark album on which the band had struggled for creative control.
Never ones to quit when the going gets tough, The Used decided to take matters into their own hands and go DIY for their upcoming release, Vulnerable. Both McCracken and guitarist Quinn Allman took the time to meet up with us at SXSW in Austin, TX, to discuss the new album and how the band has grown, musically and personally, since they first began.
OS: You just returned from Soundwave in Australia. What was that experience like? How did the fans respond to the new single?
BM: It was amazing. It was the biggest, craziest festival. I mean, there's like, one million bands on it, I think? 1,200,000 bands? [laughs] A lot of metal bands, so for a band like us¦we kind of had to watch where we walk and not get beat up by all the metalheads. But it was so fun. We're just doing I Come Alive right now from the new record, since it's not out yet¦but the feedback we got was amazing. Australian fans are fucking crazy.
OS: I hear that from a lot of people, that fans overseas are so much more excited¦
BM: It's weird…England and Europe and Australia are really crazy.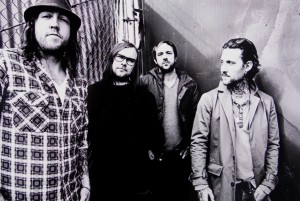 OS: You're about to put out your brand new record, Vulnerable, and you've taken a DIY approach to this release. Can you talk about the advantages and disadvantages of releasing your own record?
BM: I guess the only disadvantage is we have to do pretty much all of the work ourselves. We teamed up with Hopeless to handle the distribution of the record, which is really cool. They're really on it. I'd say the advantages are¦everything else in the whole world. We get to do whatever we want with our own music, we get to create the type of things we want to create, no one can tell us what to do or how to do it, we get to make our own music video the way we want to make it¦I mean, just 100% creative freedom. It's incredible.