It's impossible to enter the realm of current fast-paced, punk rock music without mentioning Bouncing Souls. The name itself implies upbeat, intense music. These Jersey skate punk legends have been on the scene since 1987, working the simplicity of a "one guitar, bass and drums" lineup that is often overlooked and  typically quite difficult to pull off. But, with the unique lead vocals of Greg Attonito and a touch of optimism, The Souls fulfill even the most stubborn of punk rock fan's needs.
Despite releasing an abundance of EP's and singles as well as almost 10 studio full-lengths, the band have really stayed true to their sound and aesthetic. Their most recent release Ghosts on the Boardwalk is already being received with critical acclaim. OurStage got in touch with Attonito backstage at this year's Vans Warped Tour where the band emerged as a veteran act. Check out his  thoughts on Warped, his take on the band's music and even his recent acoustic tour with his wife.
OS: How often do you guys do Warped Tour?
GA: We do it in different cities. We did a couple weeks last year, a couple weeks the year before, and so on. We've been on Warped Tour every summer, and this is our 9th one.
OS: Yeah, so you guys are kind of Warped veterans.  What have you come to expect when hopping on the tour?
GA: It's always an adventure, and this year has been that, completely. We had some vehicle troubles, our vehicle overheated. We got our U-haul trailer stolen, and then recovered, and everything was in it. Which is crazy. We had some great, great shows. It's been a wild adventure, and that's what the Warped Tour always is.
OS: All the bands sort of agree that Warped Tour is a real community experience. Some have called it a giant tailgate party. Having been on the tour so much, how has that been for the Bouncing Souls?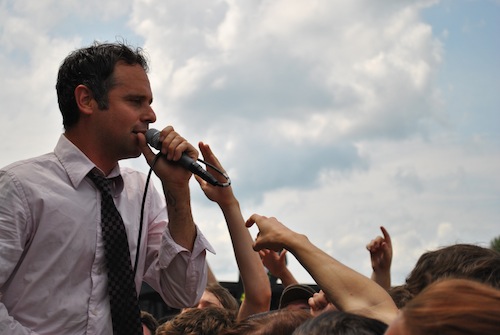 GA: We were doing the interview for the Warped Tour documentary earlier, and they were kind of talking about the same thing. For all the people who complain about the Warped Tour being not punk, in that sense that we're all throwing all this random stuff in a pile and just seeing what happens"that's the punk spirit of the tour. That's what those early shows I went to were like. There wasn't all this talk about different types of genres, and it wasn't as big of a deal as it is now. Which, it is on the Warped Tour, but just the fact that all the genres are just thrown in together gives it that spirit. You don't know what you're going to find here. Lots of people are into one thing, so they're going to be exposed to other stuff. So, I would say that that's the essence of the Warped Tour. That's what makes it so interesting.
OS: The band seems to have a strong charitable goal in a lot of your shows/releases. Why have you decided to move in that direction?
GA: I guess it just comes from who we are, and what we know makes sense as people and as a band. We care about the music. We care about ourselves and each other as friends. We care about the audience, and it all becomes one thing. It's like a family"friends and family. That is the type of people we are, but as we put it into a band it becomes like a band thing. That's what people see as more of a public thing.  We're a group of people that want to live a certain way, and our band reflects that.
OS: Yeah, and a few years back, your wife released a children's book, and you did a tour with her playing acoustic songs for kids at bookstores, right?
GA: Yeah, that was a ton of fun. Also, my wife and I just came up here to Boston. We did the Middle East. We did a really fun little experimental tour. We got Vespa to sponsor us and we rode from every show on our Vespa scooters" my wife and I. We started in Philly, did 8 or 9 shows, and we ended up here in Boston and played at the Middle East. It was just a couple months ago. It was totally fun. We documented it. Every day we had to drive maybe 50-60 miles.
OS: The Bouncing Souls, in general, kind of embody the Jersey punk sound, and you aren't shy about mentioning it. Do you feel it's important to get this into your sound?
GA: I think it jut happens. If we thought about it, it probably wouldn't be quite right. I think it's part of who we are and what we love. It's just part of us. I think that's why people enjoy it, because it's real. You know what I mean? We love it, so we play it.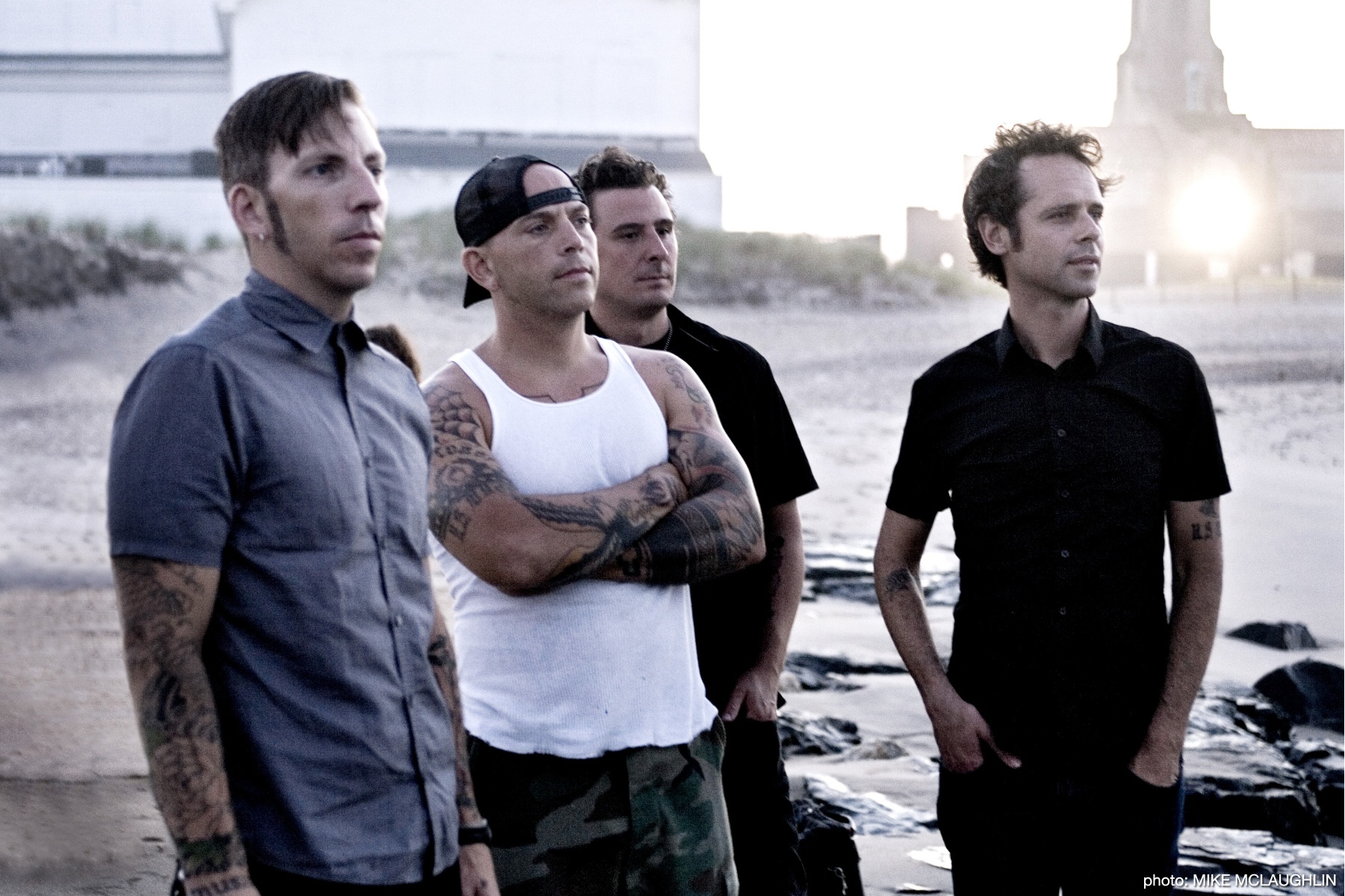 OS: On The Gold Record, there's a song called Letters From Iraq. Someone else wrote the lyrics for it. Can you tell us a little about that process?
GA: It was in the heat of that time when the soldiers were there. We were writing the record and we were like We want to address this. We've never been real overtly political, and choosing political parties and writing music about that never made sense to us. So it didn't seem real. There you are watching CNN, but you're really disconnected. It's hard to write about it if you're just watching it on TV. We literally had that conversation one day. We're like War sucks! War sucks! But what are you going to do? It's not real to us. That night. The night of that conversation, our friend Garrett who had served over there, had written a bunch of poetry while he was over there,tons of it. He wrote Brian an email and said Hey, I've got all this poetry if you guys want to check it out. I don't remember, but he might have suggested we put it in a song. He was getting it together. He was back, and he was kind of amped on it. Brian came back, and we were like Holy Shit. We all went to the computer and started reading it. We're like Here is the song. There were like ten songs there. He had a ton of it. We printed it out, and reworked it. We definitely changed things around so it would work with the song. That was it.
What I was stoked about was that when you read the lyrics, it was so not the same vibe of watching the news. It was so real. There's something about the way CNN does the visuals and the way they present it. It's almost romanticized. The way you see it on TV, it's so disconnected that it's not real. People dying, suffering and blood. You don't feel it. That's kind of the problem I have with the way the military is presented on the news: being like a solider, serving your country and stuff. In a sense, that can be real and genuine, but also, there's so much reality that's not there. I was happy to put that into the song. Hopefully, we achieved it, and I feel like we did, because a lot of the soldiers appreciated the genuineness in it.
OS: The new album, similarly to some of your other releases, seems to deal with optimism and rising above negativity. Why is it important for you guys to portray that and how do you think it fits in with all the negative lyrics common with other bands in the punk genre?
GA: Again, it's how we want to live. The energy you project into life is what you will be living in. You create your world. You have the power. Everyone does. So, I guess we're just aware of that. We want to live in a positive energy. We're aware that if we put that into our lives, then we're going to be living in it. It's that simple. We can be negative, but we want to overcome those moments, and that's why a lot of the songs are about that. It's about overcoming negativity within ourselves, and when other people are projecting it at you.
Also, it's the way of the world. It's always going to be that way. You can't have positive without negative. I'm talking about science and nature now, you know what I mean? There can't be one without the other. Otherwise there wouldn't be any drama going on. In other words, it is what it is. It's everyone being negative or positive at the right times in their lives, and having those experiences at the times that they need to have them, because they're experiencing all of it.
Bouncing Souls are performing at the Bumbershoot Festival in Seattle, WA on Sept 5th. Catch them on their Australian tour later this year with Hot Water Music.
9/5- Bumbershoot Festival 2010, Seattle, WA
9/6- The Alley, Reno, NV
9/11- The Black Car, Washington, DC
9/12- The Music Hall of Williamsburg, Brooklyn, NY
9/13- Concert Cruise on The Temptress, New York, NY
10/8- Riot Fest 2010, Chicago, IL