Kevin Costner just feels right about making music with his band Modern West. You could say that comfort came easily because he has played guitar and piano since childhood. Or you may say his dozens of acting roles in such human interest dramas as
Dances with Wolves
and
Wyatt Earp
allowed him to reflect sonically. Even Costner seems unable to pinpoint the exact reason his music career"which we'll call it, though he might not"seems such a natural fit. What we can trace are the roots of his music, that began in earnest when he met future band mate John Coinman in a Los Angeles acting workshop. The two began to perform and write together. Then they teamed with friend Blair Forward, and formed their own band The Roving Boys. The band was working its way to success, when Costner's acting career skyrocketed. The Roving Boys was shelved until a 2005 reunion restarted the band's creative engine.  Now a six piece band"with members Teddy Morgan, Larry Cobb and Park Chisholm"and called Modern West, the band has begun a tour behind its latest release From Where I Stand (now available in Europe; a US release may soon be announced).Costner took time out of his schedule to chat a bit about his latest album, the band's original songs and just why his music career worries his children.
OS: Why did you decide to record this new record?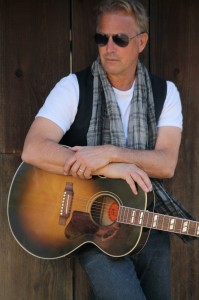 KC: Making the record came from my desire to play live wherever I want hanging out. I didn't see it translating into a tour. I found myself at golf tournaments and charity events, and I would be more comfortable onstage [performing] than standing out there signing autographs. I wanted to be part of the party instead of a prop. I have always loved performing and I love performing original music. There was no end game. This was not the idea, to tour. It was not the idea to make a record. Things unfold and I bent with the wind.
OS: And now you have this major record deal.
KC: I do not have a major record deal. I have to be very, very clear. There is no machine behind me, behind us. That has been the heart burn for the guys in the band. We could play 200 or 300 nights [a year], and that would change the lives of everyone in the band. I don't want to do that. So one satisfaction has led to others' dissatisfaction.
OS: So it seems everyone in the band writes?
KC: I write a lot of lyrics and occasionally I do a melody line. It all depends on how I'm feeling. More [of my] songs get tossed than are kept. Most often one of the guys [in the band] writes a song based on something I say. I might say "Hey, that is catchy," and they'll say "those first four lines are what you said." Then we flesh the song out. That's how our band operates.