Have you been living under a rock for the past six months? If so, you may have missed the news that Prince William and Kate Middleton are getting married this weekend. And like us, you probably wondered why everyone spells her name Kate when her full name is Catherine. Why? Is that a British thing? But we digress. The point is, in an effort to share in the couple's joy, George Michael recorded a cover of Stevie Wonder's You and I as a gift to them. (You can download the track on his Web site.)
We know what you're thinking"nothing says true love like engaging in a lewd act in a public toilet. But George Michael's heart is certainly in the right place, and his gift got us thinking about other singers we'd love to have performing at our wedding.*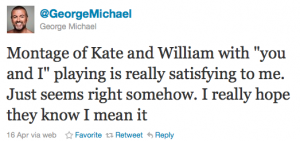 *We are in no way serious about having any of these artists perform at our wedding.
Rick Astley
The key to having Rick Astley as your wedding singer would be keeping it an absolute secret. Seriously, don't tell a soul. Because what could be better than Rick Rolling your guests? Imagine the looks on their faces. Plus, that has to be one of the easiest dances to learn. Of course, you could always just get Rick to write your vows. Never gonna give you up, never gonna let you down…
Ozzy Osbourne

Okay, so the Prince of Darkness might seem like a strange fit for your reception. But say what you will about Ozzy, but the guy has been married to Sharon since 1982. We think he might know a thing or two about marriage. And don't you want your wedding to be memorable? Between public intoxication at the Alamo and snorting a line of fire ants (was that rumor ever confirmed?), we're pretty sure Ozzy brings the party.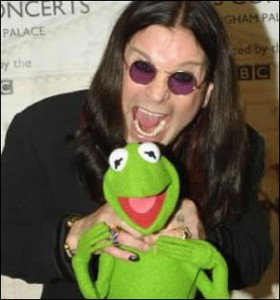 William Shatner
If you haven't heard Shatner's cover of "Common People" by Pulp, click here. Done? Welcome back. You now understand why your wedding will be incomplete without the Shat. Did you hear the emotion in his voice? Those passionate vocals? Where on earth did he learn to sing like that? Every other band should have just stopped trying to make music after his 2004 album Has-Been, because there's no way to improve on it. When Shatner talk-sings "Ideal Woman" during your reception, your guests will struggle to hold back tears. It'll be a truly beautiful moment.
The Dan Band (from Old School and The Hangover)
This one is a total no-brainer, because who hasn't dreamed of being serenaded by R&B covers of filthy songs like 50 Cent's "Lollipop"? We have just a few ideas for totally inappropriate raps turned creepy slow jams this guy could perform at our wedding: Snoop's "Gangsta Luv," Ying Yang Twins' "Wait (The Whisper Song)" or 2 Live Crew's "Me So Horny." And of course, we welcome your suggestions.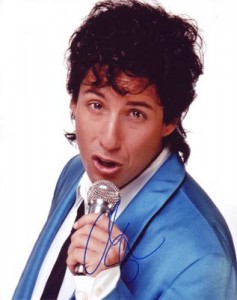 Adam Sandler
Despite the title of this post, we're still a total sucker for Adam Sandler as the goofy, overlooked wedding singer. Sure, he might steal your bride, but only if you're a cheating asshole.  And just look at how he works that powder blue suit. We'd even let him belt out "Love Stinks" if he wanted to. Maybe he'd bring Billy Idol to the wedding with him? …A girl can dream.
Editor's note: Despite recording a song for the couple, George Michael has made it clear he will not be attending the royal nuptials, tweeting: the couple should be "surrounded by people they love, not dodgy ex-con pop stars." We're sure there's a distant cousin or two in there that will be disappointed to hear the news.