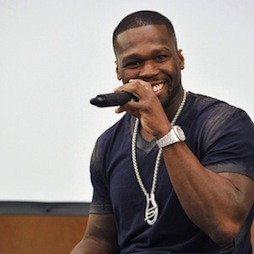 50 Cent has delivered a brand new anthem for the city he calls home.
Standing on a rooftop in the middle of the night with the city as his backdrop, 50 Cent takes on the persona of New York City for his new single. He talks about the city's cold heart and how it's only growing colder as the crime rate increases, then uses the chorus to let listeners know that the city won't be destroyed by the antics of a few bad apples. It's tougher than people realize, and it will swallow you alive if you aren't careful. Click here to view the video.
For a song that was originally released as part of a free album, "NY" packs a lot of heat. The street-ready production harkens back to an earlier point in 50's career, but the lyricism is miles ahead of anything found on Get Rich Or Die Tryin. He's still obsessed with money, drugs, and violence, but at this point I think it's safe to say that is exactly what 50 Cent fans want to hear.
50 Cent has spoken on occasion about releasing a new studio album, but for now seems content to deliver free content to fans whenever the mood strikes him. We certainly aren't complaining about this decision, and will keep our eyes peeled for future developments as they arise. Comment below and let us know your thoughts on "NY." (more…)