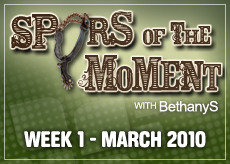 "Spurs of the Moment is your up-to-date source for all happenings in the country music community. Make sure to check in bi-weekly to see just what's going on  with your favorite country singers and stars!
This week has been a big week for country music. The Academy of Country Music Award nominees were announced on The Early Show on Tuesday by Reba McIntire and Blake Shelton. The leaders of the pack include some names you were fully expecting" Taylor Swift (ehem), Carrie Underwood and Lady Antebellum. But Miranda Lambert and The Zac Brown Band snuck up on viewers as 2 of the top contenders, with six and four nominations respectively. This year will be a big year for the ACM's, and with Kenny Chesney only releasing his last record over a year ago, the male category awards are a toss up. Personally, it would be great to see nominee Darius Rucker walk away with Male Vocalist of the Year considering the album and singles he's released in the last ACM calendar year. However, I have to admit, some categories are pretty predictable if you look at other award show wins. For example, I don't think there's much question about who's going to nab Entertainer of the Year or Album of the Year. If you've paid any attention to country music for the past 2 years, you know as well as I do that Taylor Swift has those awards on lockdown, and good for her. I do wonder how many mantels she'll need to display her awards after the year she's had, but what's a couple more from the 2010 ACM's?
A day has come that few country fans looked forward to. We all knew it was coming, but without a definite end in sight, I think country lovers half-hoped that Brooks & Dunn were only kidding about hanging up their hats in 2010. But, as of August 10, 2010, there will never be another Brooks & Dunn performance to look forward to. The concert, taking place in Nashville, will occur one year after Kix and Ronnie's announcement that they were parting ways. As much of a loss as this is to country music, the appreciation and love for Brooks & Dunn in the hearts and radios of country listeners will hopefully go on forever.
Jessica Harp, former member of The Wreckers with Michelle Branch, is "leaving the pieces" of her singing career behind, according to a letter posted on her Web site. Harp, who has released two singles since leaving The Wreckers, says that songwriting is her new focus. The lyrical content and emotion of the songs Harp has been a part of indicate that writing is truly where her talent lies, so she deserves the best of luck in this new adventure. Hopefully, "things are sweeter in Tennessee" for Jessica as a songwriter.
Stay tuned for more news and events that are inevitably going to be grabbing headlines, courtesy of our favorite country superstars!