Maybe it was destiny, maybe it was coincidence, but when Noel Johnson came across an old Fender acoustic in a back alley in his hometown of Calgary at the age of sixteen, his fate was sealed. Years later, Johnson has honed his playing and songwriting chops without completely smoothing over the rough edges. The singer-songwriter's folk rock is loose, rhythmic, rustic and catchy as hell. Where Would I Go? and Capsized are driving songs"the former an up-tempo, rangy rocker with electric guitars and warbling organs to get the juices flowing, and the latter an acoustic amble full of autumn nostalgia. If looking for a moonlit stroll rather than the call of the open road, put on Every Night. Johnson unfurls his falsetto, making the starry-eyed, stripped-down song even more poignant. We're just saying we're glad he found that guitar.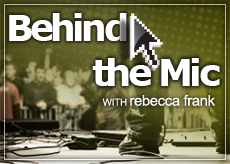 Being a musician is an expensive occupation. From gas money to rental fees to gear purchases, the costs constantly seem to be racking up, and there never seems to be enough money coming in to offset the expenses.
In the past, you'd probably have to land a bunch of paying gigs (and we all know how rare those are) or sell all your merch just to pay for studio time or tour expenses. Now, you can ask your fans to help you fund your next musical endeavor.
Sites like Kickstarter.com and SellABand.com allow fans to donate money to their favorite artists and help them fund their next tour, album release or merch order. In return, the artist provides exclusive rewards, which become better as the donation amount increases. For example, a fan who donates $20 to an artist may receive an autographed copy of the finished album, but a fan who donates $1000 may get a private concert at their home.
OurStage artist Justin Branam, who was hailed as an "artist to look out for" by AOL Music, used Kickstarter to finance the making of his new album. His goal was to raise $3000, but with the help of seventy-one fans, he was able to surpass his goal by $275.
In addition to the fundraising itself,  Branam also used technology to create a unique donation incentive: an EP called iPhone Sessions. As you might have guessed, the EP was recorded entirely on Branam's iPhone, but the album art and promo videos were created on it, as well.
Branam's campaign lasted one month and offered fans some incredible incentives, such as having their name in the new album's liner notes, a record from Branam's collection or a one-on-one webcam chat with him. Fans who donated money got the prize at that level and also all of the prizes for lower donation amounts (fans could earn all seventeen rewards, plus Branam's original demo CD from when he was sixteen-years-old, for a donation of $5,000).
Fan funding is the future, and has proven to be successful for many artists like Justin Branam. Not only does it engage fans, but it is a great way to directly reward their support and generosity. Hard work on both sides will pay off,  making the relationship between fan and artist even stronger.
Check out "Dial Tone" from Justin Branam's iPhone Sessions!