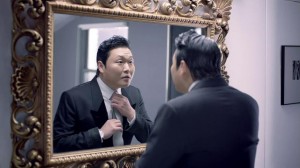 Have you ever tried "Gangnam Style" while making "Love In An Elevator"? I wouldn't recommend it.
After remaining largely quiet in 2013, Korean pop star Psy has revealed that he recently completed work on a new single with Aerosmith frontman and rock icon Steven Tyler. Speaking with an Italian news publication, the YouTube sensation confessed, "When I was in middle school, I literally cried when Aerosmith were singing 'Crazy' or 'Amazing' or whatever. They were my lifetime role models, and now I am collaborating with Steven Tyler. What the fuck, man? [laughs] I love my life."
Psy was not just interviewed for the magazine, but was actually the first Korean pop star to be given a cover story. If you'll recall, his breakout single "Gangnam Style" was the first video in the history of YouTube to cross one billion plays.
There is currently no projected release date for the collaborative single, but given that Psy has been reportedly recording in Los Angeles for months it's likely something will surface sooner rather than later. You can view a tweet posted by Psy featuring a photo of himself and Tyler below. Follow OurStage on Twitter to stay updated as more information becomes available. (more…)