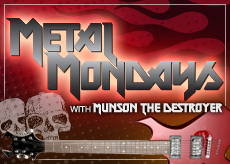 Metal as a community"made up of bands and their fans" is a tight-knit population, but that does not mean this happy family is without its schisms. With the somewhat recent rise of deathcore into the mainstream, many death metal and grindcore acts have drawn a line in the sand to separate themselves from this sub genre of metal. The same can be said for metalcore, which at one point in the early 2000s had a major surge within mainstream music and was ostracized by many metal sub genres. You see, if someone isn't raised in the metal scene, then they may not be able to tell the minor differences between these sub genres. Add to this the large number of bands  spilling over and changing sides between sub genres, and you've got a recipe for a giant mess.
Grindcore, metalcore, deathcore"they all came from very distinct roots: death metal and hardcore (scenes ultimately born from punk). Death metal is known for its heavy and constant nature, taken to an extreme level. Lots of bands fit this bill and have had the "death metal" label slapped onto them, but the essence of death metal lies in bands like Death, Cannibal Corpse, Obituary, Suffocation and Decapitated. Change anything the classic death metal  formula and you've probably found yourself wandering into sub genre land"bands like Necrophagist are known as "technical death metal" but to the inexperienced listener are really not much different. For a good example of death metal, you can check out this video for Cannibal Corpse's "Death Walking Terror":
Early in the death metal days, grindcore was born"taking the heaviness of death metal bands of the time along with the avant-garde nature of post-rock, the frenetic rhythms and breakdowns of hardcore punk and an extra splash of craziness to create a totally new sub genre of music. The more famous grindcore acts include Napalm Death, Pig Destroyer, Brutal Truth and Agoraphobic Nosebleed. Check out this music video for Brutal Truth's "Sugar Daddy" to hear a good example of  grindcore:
The late 1990s witnessed the next offshoot: metalcore. Though its beginngs lie in early 90s bands like Converge and Zao, its current style was brought about by bands such as Unearth, God Forbid and Shadows Fall. Taking a lot of influence from trash, the metalcore tag may be a bit misleading, as the only real element taken from hardcore is the style of breakdown used. Most of the stylistic choices lie in heavy thrash, and the vocals often feature big melodic lines evident in heavy metal bands like Armored Saint. The most famous example of more modern metalcore is All That Remains' "This Calling":
Soon after metalcore's rise, deathcore began to brew. Take out the melodic vocals, make the sound a bit heavier and use more extreme breakdowns and you've transformed regular metalcore into deathcore. Bands such as The Acacia Strain, Caliban, The Red Chord, Animosity and Job For a Cowboy are known as some of the first true deathcore bands. To get a taste of an archetypal deathcore song, check out The Acacia Strain's "Angry Mob Justice":
Nowadays, though, bands are breaking these boundaries. Act such as The Tony Danza Tapdance Extravaganza, Cephalic Carnage, Job For a Cowboy and Brain Drill have completely shattered the mold for these genres. This has been a much needed change for the metal scene since many separate sub-genres began drawing lines in the sand because, really, many of these bands aren't that different at their core"they're all just looking to have a good time by making extreme music people want to move to.