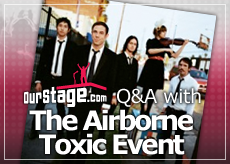 It's no secret that tough times can lead to great songwriting, and in the case of Los Angeles's Airborne Toxic Event, they can be the reason a band gets together in the first place. That's what happened in 2006, when frontman Mikel Jollett turned a particularly awful week into a handful of songs, and eventually into one of the most successful rock groups around.
Currently on tour to support their second full-length, All At Once, the five-piece is still busy turning difficult personal experiences into universally appealing songs. We got a chance to chat with guitarist/keyboardist of Steven Chen about the new album, the lingering impact of "Sometime Around Midnight" and the risks of shooting videos with cats.
OS: We hear it's a sad story, but can you give us the rundown on how this band got started?
SC: Well Mikel and Daren met through mutual friends, in I think the summer of 2006. And Mikel had all these really tragic things happen in his life"his mom was diagnosed with cancer, he got diagnosed with an autoimmune disease, he quit smoking, he broke up with his girlfriend and he just spent a year writing a ton of stuff. He met Daren, and then the two of them were just playing, practicing for a whole summer. And then I had known Mikel when we both lived in San Fransico together, and Mikel knew the rest of the people in the band. They were all his friends. So we just all of the sudden sort of came together, having casual meetings at his house where he would invite people over and we would drink and play music and record some stuff. Eventually… I came in and played, and Noah was in there, and Anna was in there, and there was a very palpable chemistry. Eventually it all just worked out, and we played our first show within a month of officially forming.
OS: It seems like you guys gained momentum pretty quickly right after that.
SC: Well I don't know, it looks a certain way from the outside¦ It's hard to figure out what a good frame of reference is. This is my first band, but it's not Noah's and it's not Daren's. I guess it was like a year where we just played around LA a lot. And then we were just dropping off demos at radio stations and going for the local shows and stuff like that. So you know, we've been around for four years, a little over four years now.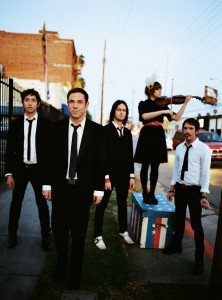 OS: You've been compared to everyone from Bright Eyes to U2, but who would you say you were inspired by as you worked on All At Once? Who were you listening to?
SC: Oh man, I think we listened to all kinds of stuff. Mikel listens to a lot of Leonard Cohen, and we listened to a lot of Pink Floyd, Bob Dylan when we were getting ready to record the album. The Clash is big, everyone in the band loves The Clash. Daren, the drummer of our band, he's sort of like our resident music historian… Noah is an upright jazz bassist, so he like a weird mix of jazz and like, punk rock. He's played in jazz bands, he's played in country-western or punk bands, so that's sort of where he comes from. And me, I listen to a lot of indie rock or brit-pop like Pulp or Pavement or The Smiths. I'm a big fan of late ˜70s, early ˜80s New York pop"New York Dolls, Dead Boys. And British punk.
OS: The video for your latest single Changing starts off with you turning off the radio as it's in the middle of playing what sounds an awful lot Sometime Around Midnight. Was that something that was important to you on this record? Stepping away from that single?
SC: [Laughs] I don't know if we thought about it too much. It was just more… it was kind of funny. And it's our song, you know? It's very much a part of our band, and we thought [Changing] was kind of a different vibe of a song. It's kind of just tipping our hat to Midnight. I think it was like, a five minute discussion, and it was in there. People have been talking about it a little bit, but I don't think we were trying to say, Oh, screw that, or anything.
OS: Several reviewers have said that it really sounds like you're really defining your sound on this album. Did you find that was the case" that you really hit your stride as you worked on All At Once?
SC: You could say anything in retrospect, everything looks different. I think when you're doing it, you're not really trying to create a specific sound or a kind of music. If anything, Mikel had a really strong idea of how he wanted to kind of lyrically write around a theme. The songs on the album, from the first track to the last one, they tell a story. It deals with a pretty big concept. But when we were doing the record, Mikel had written all the stuff. He had written upwards of forty songs… and we worked on them the whole summer of 2010. We were just at his house every day, drinking coffee when we were there in the morning. We had a wall of songs that we were working on, and we had moved them around, moved them to the bottom of the pile or worked on them. But we just wanted to create the best songs that we could create. You never think about genre, you know? I think you can just be a rock band. The genre is generally more trouble than it's worth… I don't think you need to be pigeonholed, or lock yourself into a certain kind of sound.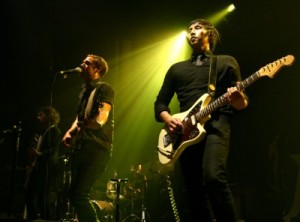 OS: It's interesting that you mention the storytelling aspect of your songs, because it seems like lyrically you always try to paint a really vivid picture.
SC: Yeah, Mikel's very good at that. And it's vivid because it's true. All the songs"or most of the songs"are true stories. Midnight, you know, we were all there that night. It's funny because every single member of the band was there that night as the story was unfolding. But yeah, the story is the thing. He really writes from the gut… and that's what people respond to. There's a lot of truth in it, and people recognize that story in their own lives. We hear that all the time, people will come up to us after the show or before the show. Some people are near tears, and some people are like, I just divorced my wife, and this song got me through it. There's all kinds of stories.
OS: As you were gearing up to release the album you did an Origins Tour, where you played cities 5 nights in a row, beginning at the smallest venue and working your way up. Why do you think your sound translates so well to both back alley bars and huge arenas?
SC: Well we have a saying in the band: you play the show that you're playing. You're not playing another show, you're playing that particular show"whether you're playing for fifty people or you're playing for 50,000 people. You're playing that show. So if we're playing at a small place… a lot of those small venues, you kind of just play to that room. If there's something in the air that's a little bit unhinged, maybe we play a crazy punk show. But then, if it's more intimate, maybe we tell our stories and play songs that are a little more intimate and not quite as out of control. We just get a vibe for the room, and we play to that room.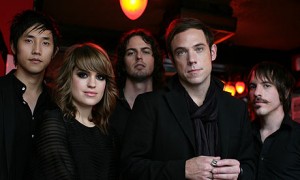 OS: You also did this Bombastic series of one-shot acoustic videos to promote the new album, similar to those you did when you were promoting your debut. Why is that something you keep going back to?
SC: A lot of it's for the fans, you know? When we did it the first time, we got such an overwhelming response. More than we ever thought we'd get. And in the band, we always feel that a good song is a good song in any genre. If a song is a good song, it'll sound good as a country song, as a punk song, as a folk song. So we just wanted to strip it down and play the song as it was, and do it in one take. I think it's in the spirit of being able to show the song at its really stripped-down level, and different things come out depending on how you're playing it. Sometimes we'll switch parts, so maybe the viola will get the electric guitar part or vice versa. So that happens. It's the same way we play live shows, we never use tracks. We never have pre-recorded tracks. A lot of bands do that, we just never felt that was appropriate for a live show. We just want to get in that room and play. The big change was the setting"we had a lot of good ideas of different settings where we could play, and we chose the ones that were the most interesting.
OS: So are there any crazy settings that you still want to try out?
SC: [Laughs] I can tell you what we tried to do with one of those settings, that was unsuccessful. With the Bombastic video for It Doesn't Mean a Thing, we had this idea… if you watch the video, unless you watch carefully you don't notice that there are actually cats sitting on a rocking chair. Kittens. And we originally had, like, fifty kittens. We weren't terribly loud, but they were running all over the place and it was really, really difficult. There was like, one kitten that stayed in the shot. So that was one that we unsuccessfully executed. We couldn't execute that one, but we like the idea of it. But we've done a few in moving vehicles, we've done one in a car, a boat, and then on the new album we're on a bus. It's kind of fun to have it be a challenge, where it's kind of difficult or you have to improvise.
Don't miss The Airborne Toxic Event on tour, and give their latest single "Changing" a listen below.