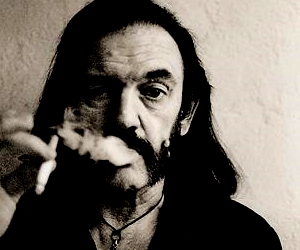 Outraged by the extravagant cost of their new 15 disc box set, Motí¶rhead has told their fans not to waste their money on the overpriced trinket. At $600, the box set's coffin-like case houses each disc with a Motí¶rhead skull emblem fastened to its lid. Open it up and you'll find several singles and eight earlier albums, from their self-titled to No Remorse. In addition, the package contains some posters and a photo book.
According to CNN, frontman Lemmy Kilmister stated, "Unfortunately greed once again rears its yapping head… I would advise against it even for the most rabid completists!"
The band claims, "Motí¶rhead has no control over what's done with these early songs, and don't want fans to think that the band is involved in putting out such a costly box set."
If you're simply too much of die-hard fanatic, the group recently put out a new (reasonably priced) album and DVD titled  "The Wí¶rld Is Yours" and "The Wí¶rld Is Ours – Vol 1 – Everywhere Further Than Everyplace Else" late last year.
Click here to see images of the box set and its outrageous $644 price tag on Amazon.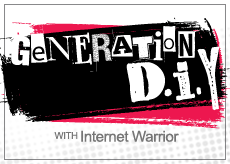 Ever have a spur-of-the-moment music purchase solely based on a band name or cover artwork? We're all guilty of judging a book by its cover or, in this case, an album. I know I am. So who's to say that you can't have that same effect with your own albums? You can! This week's Generation DIY will focus on different ways you can spice up your album art as well as promotional tools such as posters, postcards, stickers, etc. that will help catch some attention.
Let's get down to the basics. Do you have art skills? And I don't mean yeah I can put together a cool logo in PowerPoint or Microsoft paint¦ because that simply will not do. If you have a pretty good handle on Photoshop, Illustrator and the like, and an eye for design/composition then you are well on your way! If not, don't fret. There are many ways to get artwork done for your band for cheap and sometimes free. If you go to college, or even high school, check out your art department to find full young aspiring artists (such as yourselves) looking for a project that they can add to their portfolio. Simplest way possible, offer them the artwork for their portfolio in exchange for the rights to use it as your album art/poster/sticker, etc. It's a win-win situation for everybody. If you don't know how to go about finding someone, or are too shy to ask, well that's fine. Search the Internet for some graphic designers. You can always use our brand new Classifieds section and put in a request in the services category. There are many sites out there where you can find designers"one of the best (surprisingly) is MySpace. Many artists use this social networking site to help promote their work as well as to network with bands looking to get work done.
So, let's talk strictly album art here. First off, be sure to match your style well, but don't feel limited. Throwing curve balls is always great, as long as the artwork is great. For instance, there was an album I saw in Newbury Comics' metal section the other week that, if solely by judging the front cover, really looked out of place. If you aren't trying to hold onto a serious look for your band, fine. Let's face it, many bands who don't take themselves seriously as an artist get noticed before the stiff-necked I'm too cool for school type of band. But there is something to be said for continuity.
Concepts are always a great way to play off your album or EP"finding a common theme or even creating a concept from lyrics can definitely help in the creative process. Dissect the album down to the simplest form and see what you're looking to put across as an overall message. From there you can start playing around with different ideas and secure some great looking artwork for your album that can translate over to posters, postcards, stickers, even Web site or social networking design pages.
When it comes to the printing aspect, remember: EVERYTHING PRINTED NEEDS TO BE AT 300 DPI. Nothing more, nothing less. I have reiterated this message before in my posts about merchandise pressing, and the same goes for print media. When saving your files in Photoshop or Illustrator be sure the image is  300 dpi or equal resolution size, and sent as an Illustrator file (AI file) or a print ready PDF. Most places will give you their specifications but this is what I prefer to do. It's that simple really. Just a matter of getting the perfect artwork made for your project that best fits what you're trying to portray.
Good luck, Generation DIYers. Make me proud!