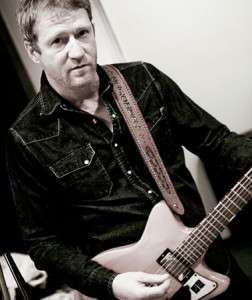 David Lowery is a name you might not be familiar with unless you're a passionate follower of '90s alt rockers or music industry wonks. And there's probably some heavy overlap between those two groups. Well, he is getting more buzz in the last couple of days than he has since his band Cracker was in MTV's Buzz Bin, thanks to a blog post he recently wrote in response to an NPR intern, regarding nothing less than the future of music commerce.
Lowery was a founding member of both Cracker and Camper Van Beethoven. Both groups navigated the tempestuous waters of the music industry in the late '80s and early '90s and both managed to find moderate success. Cracker is likely known to many fans of AOR and MOR radio for their singles "Low" and "Teen Angst (What The World Needs Now)."
But David Lowery is a music industry renaissance man. He has done stints as a college lecturer at the University of Georgia and as a trading analyst, specializing in quantitative finance. Suffice it to say, the man is smart. "I like to think that I am uniquely qualified as an artist, entrepreneur and geek," Lowery wrote in a blog post from April 15th titled "Meet The New Boss, Worse Than The Old Boss?" He continued, "I can out geek most of you."
We all have our own ways of sifting through the immense amount of great music and finding what we like, and the OurStage editorial staff is no different. We're collecting our favorite music discovery outlets and will be sharing them with you over the next few weeks. You'll get to learn a little more about us, and discover some great new music along the way! If you and I don't share the same music tastes don't worry. We're a diverse bunch and I'm sure you'll find a blogger you agree with!
1) WERS
WERS is the independent radio station broadcasting from Emerson University in Boston. Their motto is independent music for the independent mind and they hold true to it. One of my favorite things about living in the Boston area is that I get WERS on the radio; they accompany me to and from work everyday and my exposure to new music is limitless because of it. Over the past few years they have delivered artists like Jose Gonzalez, Adele, Antje Duvekot, Tunng, and The Bird and the Bee straight to my ears. If you're in the Boston area, you should definitely check out their 60th Anniversary Concert featuring Pete Yorn this weekend. If you're not in the Boston area, you can still discover great new music by listening to WERS online.
2) Grey's Anatomy
Cliché? Possibly. Does it tell you a little more about me then I'd really like to share? You bet. I have to come clean, though. I love Grey's Anatomy and their 5 seasons of music programming has done a lot of good for my iPod! My favorite finds include Ingrid Michaelson, Emiliana Torrini, KT Tunstall, Roisin Murphy, Jamie Lidell and Lenka.
3) NPR: All Songs Considered
I don't listen to it often, but when I do I always end up downloading something new. I can thank the good people at NPR for motivating me to add Beirut, Andrew Bird, Okkervil River, Devotchka and John Vanderslice to my music library. You can get the podcast version and take it with you on the go. This show is definitely worth checking out; they will introduce you to great new artists, give you inside information and offer a fresh perspective all at the same time!
4) Festivals
I'm lucky that my job takes me to lots of music festivals all over the country. In the past 2 years I've been to Noise Pop, Bumbershoot, Virgin Music Fest and Newport Folk and Jazz. I've walked away from each one with a new artist to add to my list of favorites including She and Him, Kristin Hersh, Xavier Rudd, The Dodos and The Mountain Goats.
5) OurStage Favorites
Working at OurStage, I spend a lot of time crawling through the site's charts, talking to our members and sharing music finds with my co-workers. I've put together a playlist of my all-time favorites for you to enjoy and, hopefully, start your own music discovery journey: