Even though Josh Turner's debut album was certified platinum, the songs on his 2010 album Haywire are what pushed him into the major leagues of country music"as evidenced by his headlining slots, array of awards and legions of fans.
Why Don't We Just Dance, the album's debut single was the artist's third No. 1 single and spent four weeks as the No. 1 most-played song on country radio in 2010. The song also won an American Country Award for Single of the Year-Male. No sooner had that single become a radio staple than Turner's next single 'All Over Me,' hit No. 1. No wonder he was inducted into the Grand Ole Opry as one of the youngest artists to ever receive the honor.
Although Turner released his Long Black Train debut in 2003, he's fine with the steady pace at which his career has advanced. And why not? The Hannah, SC native has won an array of awards and GRAMMY nominations, has a solid fan base and is hailed as one of country music's brightest young artists.
Turner recently took some time to talk to OurStage about his last album, his upcoming release and just how his wife handles all the attention to receives from adoring fans.
OS: Congratulations on all of the sold-out shows you had this year. What's your secret?
JT: We just get out there and have a good time and try to speak to the fans. We have had a great run of shows this year. We have had a much busier run of shows than we anticipated and that's always good.
We have had a lot of people turning out and had a lot of sold out shows this year. That is encouraging especially in this economy, too. People are still looking for entertainment and escape from every day life and that's what I try to give them.
OS: So I keep reading reviews of your concerts where they mention all of these beautiful women in the audience that try to catch your eye. How does your wife [Jennifer who plays keyboards in your band] react to all of that?
JT: She used to struggle with it early on in my career, but she is out there with me everywhere we go as part of my band. She sees it all first hand so she tunes a lot of it out.
I was joking with her one day early on in my career when she got mad. We were walking down this alley, going from one venue to another venue. This woman basically, and I don't think she meant to, pushed Jennifer out of the way to get to me. Jennifer got mad but I said "Baby, you got to understand that these people are just very excited." She's a good sport about everything, though.

On November 9, Nashville celebrated itself (again!) with the Country Music Association (CMA) Awards. For the fourth consecutive year, the event was hosted by Carrie Underwood and Brad Paisley, but the masters of ceremonies weren't the only thing that gave me that old deja vu feeling. Hadn't these accolades already been handed out just a few months ago?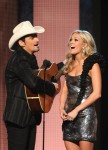 Wait, those were the Country Music Television (CMT) Music Awards in June. And before that, there were the Academy of Country Music Awards. And, just in case that's not enough Music City honors for you, there are the 2nd annual American Country Awards coming up on December 5.
Pop and R&B are just as self-congratulatory, offering the MTV Video Music Awards, the MTV Europe Music Awards, the Billboard Awards, the American Music Awards, the Teen Choice Awards, the BET Awards, the BET Hip Hop Awards, the NAACP Image Awards and the Soul Train Music Awards.
Then, of course, there are the GRAMMYs, which following so many other back-slapping fests, have been losing their lustre for years now"though that's hardly the only reason. Winning one used to be the musical equivalent of snagging an Oscar, but now its just more clutter for the awards shelf.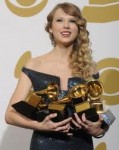 In a few weeks (November 30, to be exact), the National Academy of Recording Arts and Sciences will announce the nominees for the 2012 GRAMMY Awards (to be held on February 12). Doesn't it already feel like we've been there and done that over and over and over already this year? Am I the only one who doesn't doubt that we're in for another repeat of The Adele Show, with a very special appearance by Lady Gaga. Good as it is, like Christmas, I only need to sit through it once a year.