When For King & Country become major recording artists"which, quite candidly, is bound to happen sooner rather than later"remember that you read about them on OurStage first"or at least as one of the first.
Think that the prediction is a stretch? You won't when you hear the duo's debut album Crave that is set for February 28 release. When you experience the songs written by two Australian-born brothers whose family moved to Nashville in the '90s, you'll understand what all the fuss is about.
Luke and Joel Smallbone's brand of music"full of throbbing percussion, masterful guitars and liltingharmonies wrapped around emotionally haunting stories"has led some critics to compare them to Coldplay and other major musical talents. But, in a way, even such flattering comparisons are unfair to For King and Country.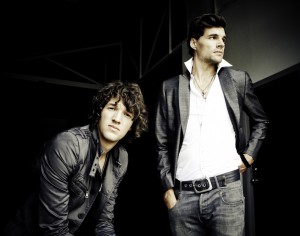 First, the music has plenty of pop, alt-country and Christian influences, too, bringing artists such as Amy Grant to mind. And the brothers' songs are truly gripping, almost like vignettes about their own lives.
Consider Busted Heart (Hold On to Me), which was inspired from a conversation on the brokenness that every person feels at some point in their life. That feeling comes at different points and in different ways, but it revolves around needing "something greater than myself" to hold onto, said Joel.
"We called the record Crave because it's all about hope and what we crave and why," said Luke. "We are creatures looking to put our trust and hope in something. The underlying thread is that there is hope and we are all looking for something we can grab hold of to live."
The depth of the duo's music isn't surprising when you realize the Australian brothers are from a somewhat storied musical background. Their father was a major rock promoter in Australia. Their sister is celebrated contemporary Christian singer Rebecca St. James. And the duo started their music career as a grassroots band called, simply, Joel and Luke.
With first memories that involve all things music, the brothers formed a natural writing partnership early in their lives. "Joel and I pretty much always write together," said Luke. "We really grew up together working on music."
That's resulted in a plentiful supply of songs for the group. If the songs on the album are any indication, they are mainly in the style of some past songs the brothers wrote that have already received popular success. Love's to Blame and People Change have been featured on the the CW series, The Vampire Diaries and Light It Up and Sane were on the Lifetime network's show Drop Dead Diva.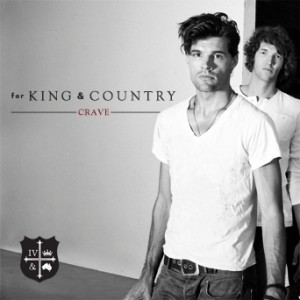 It's likely fair to say that the brothers went into creating their debut album with plenty of success under their belts, but they still found the process a bit unnerving.
"We wrote about 130-140 songs," said Luke of the project. "We put a lot of blood, sweat and tears into it."
A lot of that emotion came when choosing the songs that would eventually go onto the album but they relied on each other and their musical team to come to a conclusion.
"I think it is sort of like a family , where you're only as strong as next guy. In a family, you hold each other up," said Joel. "One of the most interesting points of the recording process was that during the song selection we [chose]eleven songs were written over a span of three-four years. The beauty is that they all have this very cohesive feel and really work well together as a true record.
Others already agree.  Busted Heart (Hold On To Me) is the fastest-rising debut single for 2011 on the Billboard Hot Christian Songs chart. Billboard also recently called the group's upcoming album one of the most hotly anticipated debuts of 2012.
Remember, you heard it here first.
Find out more about For King and Country, including tour dates, on their website.

So just where do you go after you've won nineteen GRAMMY Awards and grabbed international chart success?
For Vince Gill, the musical answer is to go home to bluegrass. Although he started his career in the genre and still truly loves it, he moved to mainstream country years ago. Now that he's arguably starting a new chapter in his career, with the release of the album Guitar Slinger later this year, he's taking pains to insure he doesn't lose sight of his musical roots.
"Anybody who is thinking of a bluegrass career, I really wouldn't recommend it," said Gill with a laugh to a near-capacity concert audience at the Birchmere Music Hall in Alexandria, Virginia last month. "I stopped playing it because I had hoped to own my own home someday."
It's a good bet, though, that Gill's comment was really more tongue-in-cheek than anything. Although the line brought a great amount of laughter from the audience, Gill said by telephone from the Nashville home that he shares with his wife, singer Amy Grant, that a healthy bank account is really only one of the reasons he loves his career.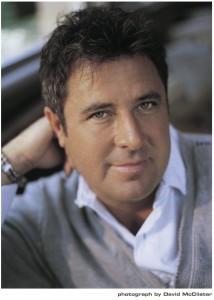 "It has never been to a point where it was a drag or I didn't feel it was a complete success even just factoring in the people I have played with," said Gill. "Gosh, it has provided me with a better life than I could have ever dreamed for myself…and it has nothing to do with [money]… I truly love the music."
Any doubters need only have sat in on this four-hour plus concert during which Gill played a host of classic bluegrass hits"including "My Rose of Old Kentucky," and "My Walking Shoes"" and talked about career highlights including playing with bluegrass legends Ricky Skaggs and Del McCoury.
With such a background, it's likely no surprise that the eleven songs on his newest album are richly textured, moving from contemporary to traditional and from somewhat light hearted to dark.
That's especially true on the album's first single "Threaten Me With Heaven," that Gill co-wrote with Grant, Dillon O'Brian and Will Owsley. Since the song was written, Owsley committed suicide.
"The the song has a profound impact on me now," said Gill, adding that the loss of Owsley and other close friends in the past few years has truly made him take stock of his life. "It's a powerful, powerful song. I feel like it's the crown jewel of the new record."
Bright spots in the recording of the record were the duet he did with Grant and the guest appearances of three of the couple's daughters"Jenny, Sarah and Corrina.
"It was really cool," said Gill of having his family work with him in the studio he recently built at his home. "They all can't help it. Music has a [very strong] place in their lives. Having them on this was very sweet."
Find out more about Vince Gill and his upcoming album on his Web site.