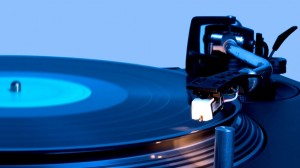 A new start-up company is striving to meet the fast-growing appreciation for vinyl with an affordable but high-fidelity turntable.
Over a quarter century ago, record players and the accompanying 12 vinyl discs were packed up in the attic, left to collect dust, and eventually sold at tag sales for a few bucks. But within the past few years, there has been resurgence in the demand for more vinyl among listeners. In 2011, vinyl sales rose nearly 40% from the previous year. Interestingly enough, the past 6 years prior to 2011 marked a steady decline in vinyl sales each year. In 2012, that number climbed nearly an additional 18% from 2011.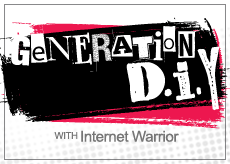 Don't call it a comeback! Vinyl's been here for years. But recently an increase in record sales signals the resurgence of vinyl and an end to it's long hibernation. Many music lovers  are fanatics. There's nothing they won't collect when it comes to their favorite bands " ticket stubs, autographs, posters, postcards and, of course, vinyl. On this week's "Generation DIY," I'm going to talk about the different types of vinyl pressings as well as ways to create a solid piece of merchandise that your fans can appreciate for years to come. And, for a little more insight (and a treat for all of you true vinyl aficionados out there), this week's post will also feature advice from none other than Mr. Gregorious Winter from OurStage's Backtracking Forward. Without further ado, let's put the needle on the record and get down to business!
(more…)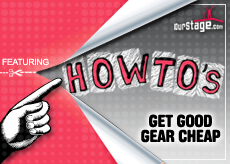 There you are, in the middle of a shredding guitar solo, and you blow your amp. Not the kind of show-stopper you were probably hoping for. Now your options are to (a) go acoustic (b) join a barbershop quartet or (c) replace your equipment.
Unless you're a musician with a trust fund, you're probably working with a limited budget. So, knowing where to find cheap gear is crucial. Here are some tips:
¢    Ask your friends. You probably know some musicians, so start there. Take advantage of social networking sites to get the word out. Bands breakup or sell extra equipment all the time, so keep asking.
¢    Read the classifieds. Not every musician is tech-savvy and down with the interwebs. Some (read: older) musicians may opt to advertise their gear in the daily or weekly newspaper. Sit down and start reading.
¢    Stalk Craigslist. The mother of all message boards, Craigslist will likely have the most listings for gear. Keep an eye on what's out there, and post your own listing telling people exactly what you're looking for. You can typically negotiate price with Craigslist sellers, which makes it an economical option.
¢    Do some comparative shopping at Musician's Friend. This Web site usually has some of the best deals on equipment, so if you want to get a general idea of price range this is a good place to do research. If you're looking for something brand new, and not second-hand, Musician's Friend is a great option.
¢    Bid on eBay. Are you looking for vintage Marshall amps? An old school wire recorder? If your equipment needs are less mainstream, eBay is a great source. You'll pay more for shipping, but since antique Wurlitzer organs don't grow on trees, you may have to suck it up.
Happy shopping!