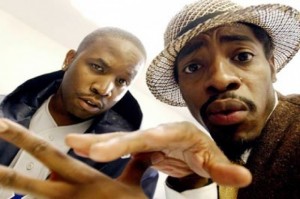 After announcing an indefinite hiatus nearly seven years ago, it looks like Big Boi and Andre 3000, AKA Outkast, may finally be reuniting. Although the duo have successfully dodged reunion questions for the better part of their hiatus, Billboard is reporting that the two will end their hiatus at next year's Coachella"as a headlining act no less. Speaking about the news, Billboard says:
"One source tells Billboard that there have definitely been 'some conversations' about Outkast reuniting, while another says it is 'all systems go' for Big Boi and Andre 3000 to end their hiatus next year. A rep for Outkast did not comment for this story, while reps for their current label home, Epic, as well as Coachella organizer Goldenvoice, did not respond to request for comment at press time."
Now, we don't want to get your hopes up, but let's not forget that Coachella is a festival that is notorious for hosting reunions, such as the celebrated returns of My Bloody Valentine, The Pixies, and the Stooges. Tell us what you think"is this reunion too good to be true?
More like this: