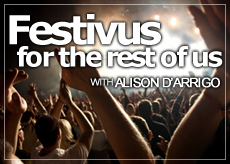 August is closer to over than beginning, which means the same for summer, and this column. And while there are a few festivals left that dare to stretch their wings into the fall months"Austin City Limits and Bumbershoot will be tempting us in the coming weeks" its time to bid our friends on the road adieu and hope that acts touring through the winter will hold us over til spring once more. That said, festival season 2010 brought a lot of good times and memories, with thank yous to be said, apologies to be made and lessons to be learned in the process.
So to start off, I'm sorry to the Internet Warrior, who asked me to bring him sunscreen from the car while at Bamboozle but I brought back hair gel instead. While I didn't feel your pain, I could definitely see it in your bright red sunburn.
I'm sorry to one of our interns, who sprinted back and forth and battled out burly security guards by herself to get great shots of acts at SXSW. Though I'm not really sorry, because she was"after all"at SXSW.
I'm sorry to Andrew WK's T-shirt at Warped Tour, which will not survive the strawberry smoothie that accosted it.
I'm sorry to the people of Toronto, who no doubt missed me terribly when I couldn't attend the first OVO Festival with Drake because I didn't have a valid passport. Customs are no joke, kids. And thank you to our Account Manager Alex, who went in my place and rocked it.
Thank you to the cop directing traffic in Mansfield, TN, who led us down a dirt access road that resulted in bypassing the hours of wait time on the highway shoulder waiting to get into Bonnaroo. And thank you to the kid directing cars once in the camp ground that resulted in a spot just minutes from the media tent, where I lugged my lap top every day.
Thank you to the wonderful ladies of OurStage who won opening spots on the Lilith festival, who displayed grace and appreciation when some dates were cancelled.
Thank you to the awesome folks at Converse who hooked up OurStage bands The Appreciation Post and Therefore I Am with sweet sneaks at the Journey's Backyard BBQ (a mini-fest, but fest all the same).
And thank you to all you crazy music fans who shared in our adventures. Festivals have no doubt changed and adapted in hard times and fluctuating music trends, but your passion keeps us all going. So rinse out your cooler, pack up your tent, put some aloe on that sunburn and we'll see you next year!