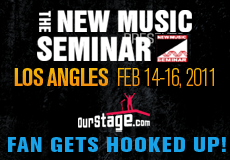 It all started with a tweet. These days all you need is a little social media savvy and some good luck to score free stuff on the Internet. That's how the cookie crumbled for Becky Clawson, who scored free tickets to this year's New Music Seminar in Los Angeles, just for liking yours truly on Facebook. A friend had entered the sweepstakes and reposted the info on Twitter, recalls Clawson. I thought, Nobody actually wins these things (well, I mean, of course someone does… but no one I know ever does), but what the heck. It sounded like a great opportunity and was super easy to enter.
Just like that Clawson was entered into the New Music Seminar Live At The Roxy Sweepstakes on OurStage. It turns out that fortune would go on to smile on Clawson, as she was selected from among the many to be the recipient of the sweepstakes Grand Prize. Clawson attended the 2011 NMS conference in Los Angeles, and was kind enough to share her experience with us. Read on to hear more about her story, and be sure to check out the OurStage fan competition page, where you can get the scoop on more ways to snag more fan prizes from OurStage. For the NMS artist perspective, be sure to scope our interview with The Well Reds, winners of the New Music Seminar Live At The Roxy Competition.
OS: What was the vibe like at the New Music Seminar and The Roxy?
BC: The vibe at NMS was one of wide-eyed enthusiasm and anticipation. Many of those who attended seemed to be on a mission to complete the puzzle, so to speak. Everyone I met was eager to learn from the pros (the panelists) and discover the tools that would strengthen their product and business strategy and propel their career to new levels. At the same time, there was a real sense of camaraderie" the unspoken "we're all here for the same reason" for the love of music; let's support each other."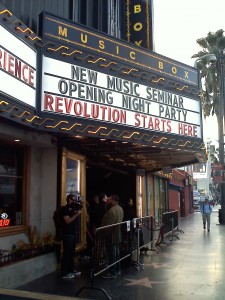 OS: What are some of the ways that you discover new music on the Internet? Did attending the New Music Seminar give you some new places look?
BC: Pandora and Last.fm were once my primary online music discovery tools, but increasingly, Facebook has taken the lead, allowing friends to easily share audio and videos. I'd spent a bit of time browsing OurStage in the past, but after learning more about the company at Ben Campbell's talk at the New Music Seminar, I'm eager to get involved with voting on the site to bring up-and-coming artists into the spotlight and connecting them with great opportunities and exposure.
OS: Was there a particular speaker at the seminar who stood out to you?
BC: It would be hard to pick just one speaker who topped the rest, so I'll tell you about a couple of the moments that stood out for me.
RuPaul, while facilitating a discussion on creating one's personal brand, asked Moby where he got his personal style. Moby, without hesitation, explained, "I grew up in a crack neighborhood. And I learned that if I dressed like I was homeless, I was less likely to get mugged." RuPaul was totally taken off guard. The point? If your music is good, it will do the talking. Even if you look homeless.
Angela Hunte, co-writer of "Empire State of Mind", told attendees that after the song's success, a lot of people asked her, "So now that you know the secret (to writing a huge hit), when are you going to write the next 'Empire State of Mind'?" or suggested, "Do that again." But she replied, "I already did that. I'm not writing another 'Empire State of Mind'. I'm on to the next thing "something different"something better." And I thought, "What a different music marketplace this would be, if everyone wrote that way instead of formulating hits." Sounds magical.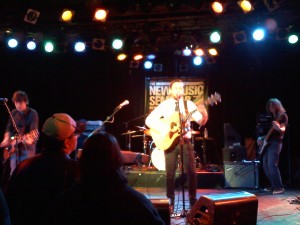 OS: Did you get to see winning OurStage band The Well Reds perform at the VIP party? What did you think of their set?
BC: I promise I'm not simply trying to tell you what you want to hear when I say that The Well Reds were my favorite act I saw at the NMS after-parties. I'm a sucker for a well-dressed rock and roll band playing original and well-written songs you can shake your hips to. No over-the-top glam. No cheese"ok, so there's always a little cheese when singing about the heart, but it's good cheese. Overall, just solid rock most of us soul-bearing young adults can relate to.