Sometimes it's not what song you sing but to whom you sing it. And if Selena Gomez's new hit, "Love You Like a Love Song," is art imitating her love life, she couldn't have picked a better object for her affection than boyfriend Justin Bieber. Though the romance occasionally has been hazardous to her health–death threats from too-ardent Bieber fans and a recent mystery illness (she blamed exhaustion, the rumor mill churned out one about a Bieber bun in her oven)–it's also worked wonders for her career.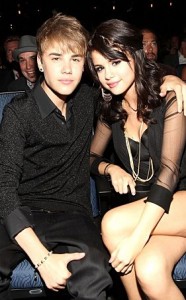 A quick recap of the life and times of the rising star: A few years ago, Gomez was just another Disney Channel starlet trying to make good on the pop charts. By this time last year, she was running neck-and-neck with Demi Lovato in a tween-and-teen-pop world ruled by Miley Cyrus. For anyone older than thirteen or fourteen, she was the one who wasn't dumped by a Jonas Brother.
But love changes everything. Though she's probably still best known as the girl who won Bieber's heart, Gomez is now solidly in the running for teen queen. Thanks to her Bieber connection, she's become a tabloid and celebrity magazine favorite and, with near-perfect timing, she's at last a true pop star. In the July 23 issue of Billboard magazine, her aforementioned latest single jumped from No. 66 to No. 35 on the Hot 100, and it's shaping up to be her biggest hit yet. Could nineteen-year-old Gomez have done it without Bieber, seventeen? Possibly. But he's guilty by association of helping to pave her way to possible multi-platinum status.
Gomez isn't the only singer reaping the benefits of high-profile love with a younger teen. Australian pop star Delta Goodrem, twenty-six, was virtually unknown in the United States until she began dating Jonas brother Nick, eighteen, in May. Though it's too soon to tell what effect it will have on her commercial potential in the US, there's no doubt that millions of Jonas fans who'd never heard of Goodrem back when she was engaged to Brian McFadden, the former member of the UK boyband Westlife who's now a judge on Australia's Got Talent (they announced their split on April 1), now know her name and her face.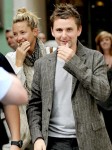 Muse's Matthew Bellamy was hardly unknown in the States when he began dating Hollywood star Kate Hudson, previously wed to Chris Robinson of the Black Crowes. But he'll no doubt have more to celebrate than fatherhood (to Bingham, his and fiancee Hudson's son, who was born July 9) by the time Muse releases its next album. Bellamy's increased visibility, courtesy of his significant other, could finally propel his band, which has yet to score a platinum album in the US and has had only one Top 40 single ("Uprising," No. 37 in 2009), into Coldplay territory.
Ah, Coldplay. Chris Martin needed Gwyneth Paltrow as much as Keith Urban needed Nicole Kidman, or Jay-Z and Beyonce needed each other (professionally, that is), but there's something about the meeting of two mega-superstars that almost always ends up boosting their careers to even more stratospheric highs (see Brad Pitt and Angelina Jolie, Brad Pitt and Jennifer Aniston, and Brad Pitt and, well, Gwyneth Paltrow). That's what happened with Tim McGraw and Faith Hill, who were both major hitmakers in their own right when they got hitched 1996. Since then, the supercouple have ascended to superstar status in tandem.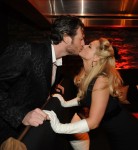 Blake Shelton and Miranda Lambert, who began dating in 2006 and married in May, are currently following their lead. She spent the last year winning pretty much every country music award in the business for her third studio album, Revolution. Meanwhile, he landed a new gig as a judge on The Voice, NBC's new hit star search; his first platinum single, "Honey Bee," became a No. 1 country and Top 20 pop hit; and his new album, Red River Blue, just became his first to top the Billboard 200 album chart.
Sure they were both doing just fine on their own, but like all successful couples, on and off the clock, they're even stronger together. May they all continue to prosper on the charts and love happily ever after.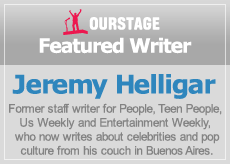 The tabloids giveth. The tabloids taketh away. Where would Jon and Kate Gosselin, Kim Kardashian and the former stars of The Hills and Laguna Beach be without them? Even Jessica Simpson extended her pop stardom when she became a regular in gossip magazines. Most people probably know Tara Reid not from American Pie or anything else in her filmography (which includes movies directed by Robert Altman and the Coen brothers), but from her tabloid trajectory, which began in the early '00s as the fiancée of then-MTV Total Request Live host Carson Daly. And Paris Hilton owes both her name recognition and "career""which would include the modest success of Paris, her 2006 pop album"to tabloid notoriety.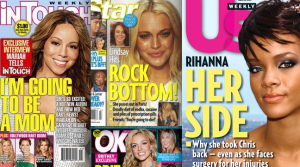 While tabloid exposure broke down Reid's career as effectively as it built up her fame, that old gossip mill has never really churned in Lindsay Lohan's favor. She's spent so many years starring on the cover of every tabloid in the business that most people seem to have forgotten that she was once a talented actress and promising singer. A similar thing happened to Whitney Houston during her Bobby Brown years and more recently with her failed "comeback." Where's George Michael's career these days? And it took Michael Jackson's 2009 death to remind the masses of his remarkable music talent.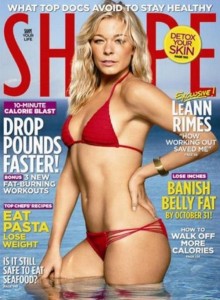 Then there's LeAnn Rimes. Once a multi-platinum music star, she spent less time on the charts in the past year than she did in the tabloids after leaving her husband for married actor Eddie Cibrian (both Rimes and Cibrian are now divorced from their respective spouses and publicly an engaged couple, though Rimes and Cibrian's ex still catfight on E! and elsewhere). Longtime fans who fell in love with her when she had her first hit at age 13 might never forgive and forget watching her sordid romantic drama play out in the press. "Swingin'," her first single since becoming a tabloid fixture spent only four weeks on Billboard's country singles chart last summer, peaking at No. 57, which doesn't bode well for her upcoming album, Lady and Gentlemen. Even public apologies and "setting the record straight" interviews, such as those resulting from the backlash of her Shape magazine cover  last month, and more recently on her ABC exclusive interview last week, haven't done much to sway public perception (or record sales) in her favor.
Too bad Rimes isn't a movie star. Historically actresses seem to have had it easier when it comes to cheating scandals. In the '50s, Ingrid Bergman had an extramarital affair with Italian director Roberto Rossellini, got pregnant and left her husband. She spent several years in self-imposed exile from Hollywood"and was denounced by the U.S. Senate"but eventually returned to Hollywood and won two more Oscars. In the '60s, Elizabeth Taylor was rewarded with the first of two Oscars after stealing Debbie Reynolds' husband, Eddie Fischer. Whether Angelina Jolie actually stole Brad Pitt from Jennifer Aniston is now almost beside the point since all three of their careers continue to thrive. And even though Julia Roberts, who hooked up with husband Danny Moder while he was married to someone else, is no longer the most bankable woman in Hollywood, her star still shines brightly.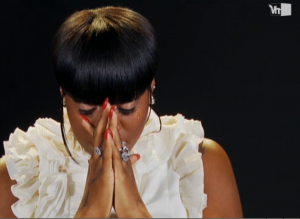 But God help the certified pop star who spends too much time in the tabloids, whether or not cheating is involved. In August, Fantasia Barrino, accused of snatching another woman's husband, sought relief from public scandal by downing a bottle of pills. Chris Brown is still atoning for his violent sins against Rihanna. Though we'll have to wait for Amy Winehouse's next album (rumored to be coming in January and by all accounts seems to be again delayed) to assess the career damage done by her tabloid-documented problems with drugs, alcohol and a wayward husband, her reputation took a major hit. So did Mariah Carey's after her breakdown in 2001, and the ton of bad press she received because of it nearly ruined her career. When I interviewed her the following year, she complained that the media went out of their way to make her look like an idiot.
Britney Spears probably would say they did the same thing to her. Despite her recent rebound after years of being a punching bag for gossip reporters, she's no longer the commercial titan she once was. John Mayer's sales are okay, but he's kind of a joke. And it will be interesting to see how Taylor Swift's apparent preference for high-profile tabloid bait" reportedly including Mayer and, most recently, Jake Gyllenhaal"will affect her career.
As for Rimes, it's hard to imagine her career recovering any time soon  from her indiscretion unless Cibrian ends up dragging her heart around. The gossip magazines would be all over it"months of "LeAnn Heartbroken Over Being Dumped," followed by "How LeAnn Put Her Heart Back Together." Comeback, Phase 1: Complete. Because nothing says, "Please forgive me" and start buying my records again," like having your heart broken and mended on the cover of Us Weekly.
Jeremy Helligar is a former staff writer for People, Teen People, Us Weekly and Entertainment Weekly, who now writes about celebrities and pop culture from his couch in Buenos Aires.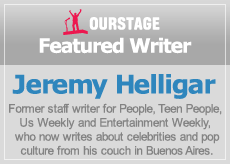 The more things change in the music industry, the more one thing in particular stays the same: Radio remains as integral to star- and hit-making as it was back in the days when Bill Haley & His Comets first rocked around the clock. Video may have killed the radio star in the 1980s, but today"if you get the sound and vision right"you still could live long on radio, and YouTube too.
Nowadays, though, even if you don't look like Katy Perry or Rihanna"and/or if your sound doesn't quite fit radio's increasingly slender formats"there are other options. Ten years ago, Moby became a superstar"mining multi-platinum with his Play album"despite having virtually no radio airplay and looking nothing like a traditional pop idol, after licensing every single track on the CD to movies, TV shows and commercials. By the time "South Side" became a bonafide radio hit, making it all the way to No. 14 in 2001, nearly two years after Play's release, it was gravy. The following year, Moby's fellow electronica act, Dirty Vegas, scored a No. 14 hit of its own after "Days Go By" popped up in a Mitsubishi Eclipse TV commercial.
Hollywood and Madison Avenue have borrowed from pop for years (for a price), often using well-known tracks by established artists, but recently, they've been selling new music, and up-and-coming acts (along with their own product) like never before. Some agencies are even launching their own labels, as is the case with RKCR/ Y&R. In 2008, music placement in ads helped M.I.A. land an unlikely Top 10 hit after "Paper Planes" was cast in the trailer for the film Pineapple Express. Coldplay's "Viva la Vida," the Ting Tings "Shut Up and Let Me Go" and Mary J. Blige's "Work That" all became chart hits after starting life in iTunes commercials, and the chart life span of Yael Naim's "New Soul" was extended by it's use in an Apple MacBook Air TV ad.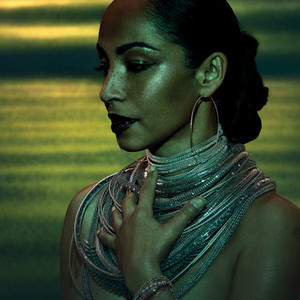 Sade enjoyed her biggest hit single in 20 years in January when "Soldier of Love" became as much a beneficiary of the TV promos for the final season of Lost as the show itself. Then along came Britain's Florence and the Machine, virtually unknown in the US until the single "Dog Days Are Over" upstaged Julia Roberts in the trailer for Eat Pray Love. That massive exposure raised Florence's profile before a plum gig performing the song on the MTV Video Music Awards in September helped the single surge to No. 21 on the Billboard Hot 100 and boosted its parent album, Lungs, to No. 14. (What is it about that number?)
Meanwhile, Brit band Muse also has benefited from heavy trailer  action and owes much of its high US profile to the overuse of its music in movies (in particular, the Twilight series), trailers and TV promos, such as the newly released global TV campaign for Virgin Atlantic Airways and the much touted 2010 Super Bowl Google spot. "Map of the Problematique" has featured in ads for Prison Break, The Children of Men and the upcoming Angelina Jolie/Johnny Depp film The Tourist, and "Uprising" popped up earlier this year in the trailer for Tom Cruise and Cameron Diaz's Knight and Day.
Rihanna's "Rockstar 101"  saw increased sales on iTunes and a surge in popularity after being featured in a commercial for MTV's Video Music Awards as well as becoming the soundtrack for the promos of the  CW's new show Nikita. Who'll be next? Christina Aguilera could use Hollywood's help now that radio appears to be totally over her. But even if her debut film, Burlesque, flops when it opens on November 24th, maybe the studio will stick her new single in the next trailer and watch both song and star soar [soundtrack hits stores November 16th].
Jeremy Helligar is a former staff writer for People, Teen People, Us Weekly and Entertainment Weekly, who now writes about celebrities and pop culture from his couch in Buenos Aires.