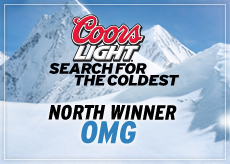 In March, OurStage and Coors Light teamed up for the Coors Light "Search for the Coldest" Competition to give artists a chance of a lifetime"the opportunity to open for hip hop heavyweights N.E.R.D. and PacDiv along with a shot at performing at the ESSENCE® Music Festival in New Orleans! Brooklyn's own OMG might be relatively new to the scene (having only been a proper group since early January 2011) but the trio"consisting of pianist Olalekan, songwriter Mojeed and guitarist G.C."have been making big moves in their career so far. Case in point: the boys fought alongside hundreds of other artists with their track "Blah" to win the Coors Light "Search for the Coldest" North Channel which means they earned an opening slot for a N.E.R.D. and PacDiv gig in New York City! We caught up with frontman Mojeed after his performance with N.E.R.D. and PacDiv to see how things went.
OS: How did you react when you found out that your song was the winner of the North Channel?
OMG: The feeling was ecstatic and unbelievable at first for my group and I. After a few minutes, we realized that we deserved the position and began to believe in ourselves more.
OS: What was it like opening for N.E.R.D. and PacDiv in your hometown? Were you a fan of them before you entered the competition?
OMG: We have always been fans of N.E.R.D and always will be. So opening for them was definitely a pleasure and honor. We knew we were opening for one of the best so we had to do our best. I never heard of PacDiv, this opportunity knocked our door. But honestly, they are worth knowing and listening to as well.
OS: What was the most memorable moment from the show for you?
OMG: I would say when Pharell hit the stage, LOL. I learned a lot from him, the energy, the passion behind his performance, even meeting his humble self was incredible. Just made me realize the world is too small to act too big when you are well known.
OS: What are your plans for promoting yourself to earn that Grand Prize"a performance at Essence Music Festival in New Orleans?
OMG: Now I wouldn't publicize my strategy, would I. LOL. It's a competition.
OS: OMG is a pretty young project, it looks like the group's only been active for a few months. What kind of impact do you think this will have on your career going forward?
OMG: It will definitely have a great impact on us. We are motivated by progress and to acquire such in such period of time is not just progressive, it's a blessing, so with prayers and consistent hard work, the sky is the limit.
OS: Any shout outs for the fans and your supporters on OurStage who helped Blah win in the competition?
OMG: Shout out to the road manager of PacDiv, pretty dope guy, the fans, we do this for them, much love and every other OMG supporter and non supporter. We love them all.
Check out the video below for a recap of the NYC event and don't forget to come back and vote for the "Coldest" MC on June 10th!