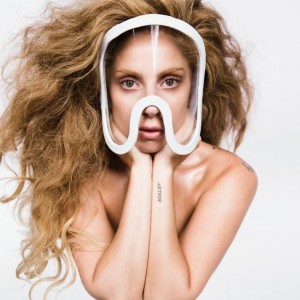 In the 1950s and '60s, 'Pop' art upended the staid world of fine art by incorporating elements from advertising, television, and consumer product packaging. It fundamentally shifted the public perception of visual art, redefined the acceptable subjects for the medium, and subtly exposed the supercilious pretension and meaningless market forces that governed the art world with shadowy power.
In 2013, Lady Gaga released ARTPOP. It has a track called "Sexxx Dreams," and includes lyrics like, "Cuz that bitch, she's so thin (oh la la la) / She's so rich, and so blonde / She's so fab, it's beyond."
This is not to discount her new album totally out of hand, (because, actually, her R. Kelly collaboration is pretty damn catchy) " it's just to say that Gaga's self-proclaimed revolutionary pairing of high-brow art culture and pop music is actually very far from progressive, especially if you take her at her word about the motivation behind the project.
Gaga has stated that "the intention of the album was to put art culture into pop music, a reverse of Warhol." So immediately it's pretty obvious that she considers art and pop music to still exist in completely separate and non-overlapping spheres. This may be true, at least for the majority of serious artists who take on some projects for the sake of pure creativity, because they can't not make art, and because even in a modern society that has devalued the role of the creators by overvaluing the distributors (ahem " the Spotify model), they still see value in the process of making stuff for its own sake.
But Lady Gaga's understanding of art culture seems a bit different. Her obsession and collaborations with huge art world names like Marina Abramović and Jeff Koons feel a lot like her own admitted obsession with fame, a major, ongoing theme in her music and life. Coincidentally (or not), the artists that Gaga admires most are those that have been prominently in the public eye for years. They are the giants on the world stage. Koons, who designed the ARTPOP album cover, recently sold one of his statues for $58.4 million. It was a gigantic orange balloon dog.
(more…)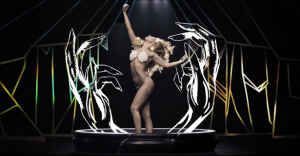 The arrival of Lady Gaga's new album is growing closer by the day, and this morning another deep album cut, "Venus," found it way online.
When "Applause" hit radio in August, fans feared Mother Monster had lost her edge. The song was no doubt catchy and theatrical, but it sounded far too similar to the material found on Born This Way to mark any creative progress. "Do What U Want" did a lot to right that wrong by offering a strong '80s influence in a new context, and now "Venus" has arrived to ensure that yes, ARTPOP will indeed offer listeners another side of their beloved Lady Gaga.
After spending roughly a minute with an intro that essentially beckons listeners to take Gaga to their home planet, "Venus" builds into a pulsating club track about love in outer space. The music is undeniably modern, but the structure harkens back to the less-than-memorable moments of experimental '70s disco pop. Whether or not that sits well with fans is anyone's guess at this point, but it feels a bit too odd to score big at radio. Stream "Venus" below and let us know what you think of Gaga's latest.
ARTPOP arrives in stores November 11. (more…)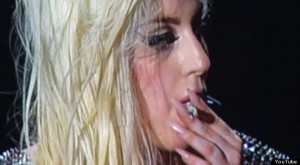 Lady Gaga has revealed the official artwork for her highly-anticipated new album, ARTPOP.
Gaga has never been one to shy away from controversy, and we'd be lying if we didn't say the artwork for ARTPOP may upset the more conservative among us. Gaga appears only in ankle boots, sitting in a chair made out of computer parts, with very futuristic eyewear upon her face. It's not quite NSFW, but if you're at work you might want to bookmark this page for later. For everyone else, click below to view the cover of ARTPOP.
Lady Gaga's new album will not hit stores until November 11, but over the weekend the singer revealed plans to release a new single entitled "Applause" on August 19. Look for a teaser to surface in the weeks ahead. (more…)