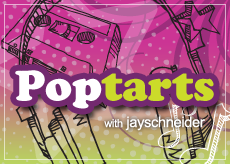 Lately, rock and pop go hand in hand. Listeners seem to crave music with both driving intensity and a hook. Luckily, 
Danielle Barbe
is a textbook example of how pop music can be supported by arrangements that satisfy an audience with heavier tastes. With a sound that  lies somewhere between Sheryl Crow and Ashlee Simpson, Barbe released her self-titled album back in March. The track "Ghost Town" opens with a complex guitar bed complete with U2-esque reverb and delay. The verse builds with sustained melodies and palm-muted guitars until finally arriving at the chorus. I will be surprised if you aren't humming that chorus at least once later today.
It's no shock to learn that Luke Ebbin (Bon Jovie, Plain White T's, All American Rejects) produced this latest release, or that her songs have caught the ears of music supervisors. Over at CBS, they featured "
Ghost Town
" on an episode of
Ghost Whisperer
(you can catch a webisode featuring her song
here
). And, they even asked her to perform for the the cast and crew of
Ghost Whisperer
at their 100th episode celebration in Hollywood this past March. Her licensing accomplishments don't stop there. If you're flying Delta this summer, listen for "Ghost Town" there too. You might be lucky enough to be on one of the 45,000 flights where they're featuring the song.
Barbe is no slouch on the live circuit either. She has shared the stage with major acts such as The Cult, Tantric and Rusted Root. She's also performed at the Sundance Film Festival and SXSW. She's keeping the rock/pop relationship alive by performing with newly reformed rock act Fuel on their tour this summer.
Check out
her profile for details soon.