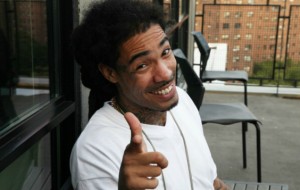 Maybach Music Group member Gunplay has been having a rough couple of weeks. First the ascendant rap star was involved in a dust up with some of 50 Cent's entourage at the taping of the BET Hip-Hop Awards.
Unpleasant as that may have been, the legal imbroglio that Gunplay finds himself currently involved in probably tops that. Gunplay, born Richard Morales Jr., turned himself in to Miami authorities on October 11th for robbery, aggravated assault, and assault with a deadly weapons charges.
The warrant for Gunplay's arrest stems from an incident last April involving an accountant, a pistol, and a man that looks a lot like Gunplay. TMZ got their hands on damning footage of the whole episode over the weekend which you can watch after the jump.
Chaos ensued at a Webster Hall show by punk rock acts Cro-Mags, Sick of It All, and Vision of Disorder, though the physicality and violence involved was less of the moshing variety and more of the stabbing variety. Founding member and ex-bassist for Cro-Mags Harley Flanagan reportedly attacked two people at the show, resulting in his arrest and the cancellation of the concert. At least one of the people attacked by Flanagan is a current member of Cro-Mags. It may be the most punk thing that has ever happened.
According to eye witness accounts Flanagan was agitated prior to the altercation, with one fan noting that, "I talked to him outside minutes before it happened and I knew something was going to go down. He was like a lunatic outside…" Flanagan, an MMA enthusiast and a practitioner of Brazilian Jiu-Jitsu, at some point leapt from the dressing room area and proceeded to assault Cro-Mags members.
Two people, current Cro-Mags bassist Mike "The Gook" Couls and William Berario, were taken from the venue with non life-threatening injuries. Couls was reportedly stabbed in the stomach received cuts to the arm. Berario, whose connection to the band is unclear, sustained cuts above the eye and was also bitten by Flanagan on the cheek. Flanagan did not escape his attempted attack unscathed, having his leg broken while being detained by security. Flanagan also managed to flip off jeering onlookers as he was being escorted from the venue despite being handcuffed.
The band has issued a statement regarding the incident, stating that, "We as a band are truly sorry for the way it all turned out in every regard, even the ex-member whose family is now affected by his choices… Let's move on now & stop the trash-talking. Keep that PMA – that's what we are all about." Check out video of Cro-Mags frontman John Joseph addressing the crowd after the assault below.