After weeks of fierce competition, five winners were selected among Latin America's most talented artists to have their songs included in Popland, a new novella airing on MTVLA that will tell the story of a girl who moves to the city looking for success.
This amazing match took place on MTV DEMO, a platform in Spanish powered by OurStage and geared especially towards Latin American artists. MTV DEMO is full of amazing opportunities and is designed to illuminate emerging artists that the fans have taken notice of.
For the Concurso Popland, MTV DEMO joined forces with MTVLA to give five aspiring artists the opportunity to have their songs included in the new novella.
Hundreds of artists entered the Concurso Popland in hopes of earning this once-in-a-lifetime opportunity.  Fans judged actively to pick the best. Congratulations to MET, an alternative rock band from Bogotá, Colombia for winning the Grand Prize with the electrifying song "Run Away". The band has been around since 2009 and has performed at high profile events such as the Nem-Catacoa and the Manizales Grita Rock 2010. As part of their prize, MET will get their song included in the novella and will get to open for an MTV Popland event at a yet-to-be-announced location in Latin America. Additionaly, the band will get editorial coverage on MTVLA and MTV DEMO.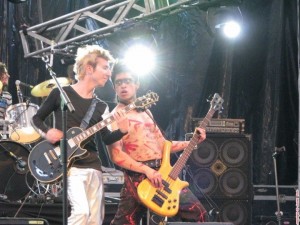 The other four secondary prize winners that will get their songs included in the novella are:
Autocinema from Baja California, Mexico
Nada Mas Que Hoy from Montevideo, Uruguay
Mad Lovers Club from Bogotá, Colombia
AudioTonic from La Paz, Bolivia
Additionally, two fan winners earned a BlackBerry Bold phone for judging in this channel and helping the best talent get to the top.
Congratulations everyone, or as we say en español: Muchas felicidades. Don't forget to keep checking MTV DEMO for more opportunities to win.