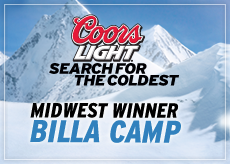 Billa Camp charmed listeners with his ode to his favorite state in "California" and reigned supreme in the "Coors Light Search for The Coldest" Midwest Channel. The result: Billa got to fly to Baltimore to open for N.E.R.D. and PacDiv, and has a chance at being crowned the "Coldest MC"! We caught up with Billa after his performance in Baltimore to see what it was like to open for heavyweights N.E.R.D. and PacDiv and how he plans on winning the Grand Prize"a performance at ESSENCE® Music Festival in New Orleans.
OS: How did you react when you found out that your song was the winner of the Midwest Channel?
BC: I was hyped! There were plenty of worthy emcees from the Midwest. It's an honor to have came out on top.
OS: What inspired you to choose California a song about your love of the West Coast, to be the track you submitted into the Midwest competition?
BC: Personally, I love the entire make up of the continental United States. You can drive from one end of the country to the other and feel as if you've stepped into different worlds. I was born in New York, became a man in Chicago, but I was always intrigued by how filmmakers portrayed California life. Being from the Midwest you're in the middle of it all. I feel the song connects with people not only from the Midwest, but all over. Simply because, mostly everyone has dreamed of going somewhere or doing something to escape the realities of everyday life.
OS: What was it like opening for N.E.R.D. and PacDiv? Were you a fan of them before you entered the competition?
BC: Of course, I knew who both the groups were. It was sick, crazy, bananas, inspirational, motivational and any other complimentary word used to describe a situation. Actually, six months ago I had an interview where they asked me: "Who would I most like to work with"? I answered "N.E.R.D." Positive thinking goes a long way!
OS: What was the most memorable moment from the show for you?
BC: Just being there was memorable, but if I had to pick one thing it would be…Seeing N.E.R.D & Pac Div on the same bill for "free". Priceless!
OS: What are your plans for promoting yourself to earn that Grand Prize"a performance at Essence Music Festival in New Orleans?
BC: I'd rather not say right now, but all you can do is go BIG.
OS: What kind of impact do you think this will have on your career going forward?
BC: I want to use this as a stepping stone, and these are definitely steps in the right direction.
OS: Any shout outs for the fans and your supporters on OurStage who helped California win in the competition?
BC: I want to say "Thank You" to everyone who voted and took the time to support independent music. Without them, there would be no independent artists.
OS: After seeing Eclectic Approach performing live, what do you think of the competition in the finals?
BC: Jowed is dope. He's got good crowd control. It was a great experience and I had fun. You can't beat that.
Check out Billa Camp's winning track below: