Today's new albums are an eclectic batch in the world of pop! Looks like female vocalists are taking over this week.
The Killers – Battle Born (9/17)
The band's fourth LP after their year-and-a-half hiatus.

Carly Rae Jepsen – Kiss (9/18)
The Canadian popstar's sophomore album after skyrocketing to fame earlier this year with her smash hit of the summer "Call Me Maybe."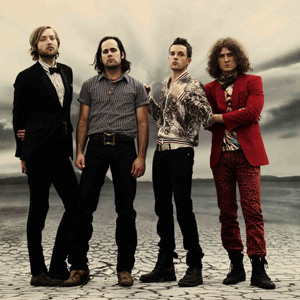 The Killers teased fans by releasing a trailer for their upcoming album Battleborn today. Battleborn, slated for a release some time this fall, will be The Killers' fourth album and their first since 2008's Day & Age.
The trailer doesn't really say a lot about the new record. To be fair, it's only a minute and a half long. But it does hint at what we should expect from The Killers' next offering. We see the band giving a lot of serious stares out into the distance and shots of a bonfire in the desert. The real action, though, is in the sonic accompaniment. Whatever song is playing over the trailer is heavy on the dreamy synths and features some Springsteen-inspired guitar riffage. In other words, it sounds like the best elements of Sam's Town wedded to Day & Age's songwriting.
The Killers began recording Battleborn in May of 2011, working with producers including Brendan O'Brien (Bruce Springsteen, The Fray), Steve Lillywhite (Dave Matthews Band, U2), and Damian Taylor (Bjork). When asked about the title of the record, frontman Brandon Flowers said, "In a sense, all Americans are battle born. Our ancestors came here for something better." It should be noted that the band's personal recording studio also carries the name Battle Born.
Check out the trailer for Battleborn below.