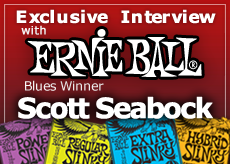 The only thing that most guitarists enjoy less than changing strings is having to pay for them.  When you add it up, all of those packs get expensive!  That's why we teamed up with Ernie Ball to give one lucky artist a year's supply of free Ernie Ball strings.  The lucky recipient, bluesman Scott Seabock, sat down to chat with us about his influences, the future of blues and how he's going to put all of those strings to good use.
Biggest blues influences: Greg Allman, Paul Rodgers, James Brown, Ray Charles, BB King, John Lee Hooker, Muddy Waters, Robert Johnson.
"I come from mostly a classic soul and R&B background so I'm not a died-in-the-wool blues afficianado like some others. I really learned to love the blues starting with rock music and working backwards."
Favorite blues guitarists: BB King, Buddy Guy, Stevie Ray Vaughan…"the list is endless"
"I have to say BB is still my all time  favorite. The way he sings a line then twists that one pull-off note with that vibrato just does me in. It truly is like he's having a conversation with his 'Lucille.'"
OS: How does it feel to win the Ernie Ball prize in the Blues Channel?
SS: It makes me feel really great. As an indie artist who is pretty much a do-it-yourself musician you wonder sometimes if all the effort and passion you put into recording and marketing music is having any affect on people. This prize lets me know that people really are listening and I am truly blessed to be part of the OurStage community and able to share what I do with others. Also much thanks to Ernie Ball for the generous prize of guitar strings. Again as a struggling musician without an endorsement, this prize will assure that I'm making music for quite awhile.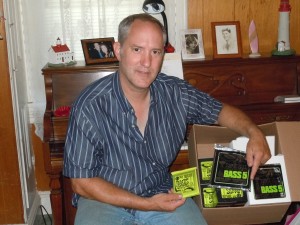 OS: What do you think the future holds in store for the blues? How do you see it being incorporated in modern music?
SS: One reason I really dig the blues is that it crosses generations more than any other genre I know. You can have a gig at a club where there is an eighty-year-old harp player, a fifty-year-old organist and a twenty-three-year-old guitarist and it's just rockin', you know. Everybody is just into the groove and not what kind of haircut you have or if the lasers are working right. It's music that is just  about the music if that makes any sense. To me the blues is like some kind of disease that keeps showing up and infecting new generations with that mysterious mojo. Even today, the blues is never that far off the radar of pop music. Take, for example, that Adele song "Rolling in the Deep". Huge hit but not exactly your typical drum machine synth driven dance hit is it? And yet there is in the vocal delivery, lyric and arrangement of that song a great example of what the blues are all about: yearning, pain and passion. Even though it is not a typical twelve bar blues progression, the soul and essence of the blues are all over it. To me it sounds like an old Johnnie Lee Hooker stomp it's so raw. Or even futher back to like the Pentacostal Church or something. It's just so free of all the cliches and safeness of today's pop music.So yeah, I think the blues are alive and well all across the land
OS: Anything you'd like to say to the fans that judged or shout-outs you'd like to make?
SS: I often hear friends of mine or different people talk about how there is no good music anymore. "Radio sucks blah, blah, blah." Whenever I get a chance I tell them they are right, that the major labels for the most part are putting out crap year after year. I tell them if you really want to hear great new music you have to go underground to places like OurStage where there are tons of artists writing and producing incredible music all the time. So again I think all who judged and voted for my song just helps validate what I and many others are doing. That is, contributing to a great body of independent music that needs to be heard by the masses. My heroes are the ones who are raising a family, working a day job, fixing up the house and all that, and still find time and energy to get together with their bandmates and rock out. Whether it's for a stadium full of people or a backyard barbeque with five friends, it's the music that matters, not all the other stuff thats attached to it. God bless all of you at OurStage who listen,write,vote and keep doing what you love to do. Peace and Love!