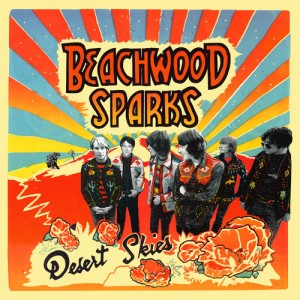 Indie space-twang rockers Beachwood Sparks came together last year for their first album in ten years. The Tarnished Gold received mixed reviews, but it was a welcome return for most fans. Now the band has released a new single, "Make It Together," which should please even those who turned up their noses at The Tarnished Gold, because this single is from a "lost" album, Desert Skies, recorded 16 years ago and not released until now.
"Make It Together" is classic uptempo Beachwood Sparks, with crunchy guitars, soft harmonies, combo organ, theremin, puppies, a child's laugh, Coca-Cola, and all the good things in the world rolled up into four minutes of throwback country-psych perfection.
The album comes out November 20th on Alive Naturalsound Records, who have the new song posted on their SoundCloud, here.

Sub Pop became famous as the breeding ground for the early-90s alt-rock revolution, home to the biggest bands of the grunge-era bands. Music changed fast, though, and Sub Pop struggled near the end of the decade to find their footing again, with WEA (Warner Elektra Atlantic) taking a substantial minority stake and making some cross-label promotional deals that didn't seem like a bad idea, but didn't really help Sub Pop's long-term creative prospects. All that changed around the turn of the millennium, with a new generation of talent forging original and somehow familiar sounds. There have been many quality releases by the label since 2000, but these are some of the very best. I've combined multiple releases in some cases, and left off others when they didn't quite hit the heights.
10. Band of Horses " Everything All The Time (2006) / Cease To Begin (2007)
A slightly more grounded My Morning Jacket or more spacey Built To Spill"either way, nothing to change the world, but really nice vibe-y, hook-filled, atmospheric rock songs with restrained country influences. Now doesn't that sound good?