Let it be known that this might be the only time one of the Gallaghers and Odd Future share headline space.
Liam Gallagher, to the surprise of no one,  has been in the news recently for propensity for making outlandish statements. Whether he's blasting Radiohead, defying the Strokes, ripping on Jay-Z's clothing line or dissing Twitter, the younger Gallagher is still railing on like he has been for years. In fact, it would be fair to say that what Twitter is to communication Liam Gallagher is to baseless verbal attacks. And while Noel was historically the more ranty of the brothers, it seems like Liam has been picking up the slack for him in the past few months.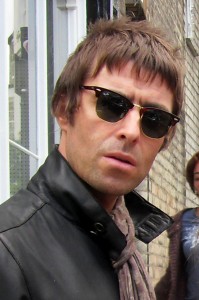 However, there has been one recent development for Gallagher that sets his most recent clump of remarks apart from his more historic comments and that is that Liam Gallagher is losing his relevancy. That's not to say that Beady Eye's new record hasn't been a moderate success in both commercial and critical terms but it's no (What's The Story) Morning Glory. He's ranting at the same pace he has for years but his level of contemporary distinction has been shrinking, not growing. How is he still able to get away with this? More on that in a minute, but let's take a look at a group which is also known for their controversial statements.
Kids, let's rap about Odd Future for a minute.
In case you're not familiar with shock rap wunderkinds Odd Future you can familiarize yourself with the group here, or here, or here, or here or if reading's not your thing, watch their infamous Jimmy Fallon performance, their first real taste of the mainstream spotlight.
We still have you? Good. Group ringleader Tyler, the Creator has been the center of the spotlight during the group's rise to prominence and the kid has a bit of a mouth on him. Like a young Eminem, his raps consist of clever wordplay and pop culture references mixed in with dashes of ultra violence, absurdity and the occasionally heartbreaking confessional.  His Twitter is comedic gold and probably the main source of the quotable Tyler outside of his incredibly explicit songs. Despite being so green as a rapper, Tyler has even played out his first feud!
In his lead single "Yonkers" off upcoming album Goblin Tyler states his intention to "crash that f***** airplane that that f***** n***** B.o.B is in and stab Bruno Mars in his g****** esophagus". Two weeks later, B.o.B released diss track "No Future" aimed at the OF kids. At least we assume so because B.o.B never mentions Tyler or the group by name instead claiming that whoever the intended target of his rhyme is"They keep f***** with me, they ain't gonna have no future". Tyler's response?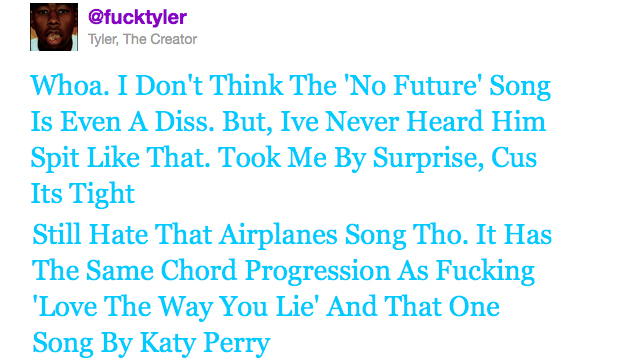 Let's compare and contrast. An aging rock star writes his pop songs but uses his public persona as a pulpit to take pot shots at his chosen targets, of which there are many. A young rapper known for his confrontational and controversial lyrics in his songs but comes off as a fairly amicable human being. One has seen his glory days and is waning and the other is surging, just beginning an exciting career. Neither one of these guys is speaking very softly, but it should be clear who's carrying the bigger stick.