Scottish indie-pop icons Belle and Sebastian have never exactly been publicity hounds. They've continually avoided putting their photos on their album covers and even routinely leave their names out of their album credits. But their anonymity doesn't originate from a desire to generate mystery, it has more to do with a dedication to collectivism and seemingly, a genuine humility. Between the band's anti-star aesthetic and frontman Stuart Murdoch's dominance of the lead vocal and songwriting duties, it's frequently assumed that Murdoch is the brains behind Belle and Sebastian, but that's an untruth. In fact, other members of the band have long been contributing on both of those fronts, and none more so than guitarist Stevie Jackson, who has penned and sung such B&S staples as "Seymour Stein" and "The Wrong Girl" among many others, and seems to be something of a right-hand man to Murdoch. So it was probably inevitable that Jackson would eventually step out on his own, which he's now done with his first solo album, the cleverly titled (I Can't Get No) Stevie Jackson. (more…)

What do you listen to when the hour is late, the lights are low and careening power chords and wailing vocals just don't suit the mood? Everybody's got their own answer to that question, but those who dwell in the rarefied dominion of record geekdom are especially attuned to what makes a good after-hours mix, priding themselves on concocting the perfect combination of tracks to watch the wee hours drift by. That's the idea behind the British Late Night Tales series, which brings in a different celebrity guest to curate each volume. In the past, LNT has tapped the talents of The Flaming Lips, Snow Patrol, Midlake, Arctic Monkeys, Fatboy Slim and many more, from varied stylistic sectors. Six years ago, indie-pop giants Belle and Sebastian were added to that list, and now they've got the rare honor of returning for a second round, delivering the latest Late Night Tales mix. To find out how the whole thing came together, let's lend an ear to Belle and Sebastian keyboard man Chris Geddes, who was actually the main overseer of the collection. (more…)

Foster the People just might be the pop anomaly of 2011.
The trio of Los Angeles-based twentysomethings led by founder and namesake Mark Foster looks like a boy band (only cuter), plays instruments like rockers and produces music with beats that thump as hard as any backing up those fierce divas currently ruling every dance floor in clubland. And then there's FTP's breakthrough single, an insanely catchy song called "Pumped Up Kicks" about cool shoes and a youth with homicidal tendencies.
I mean, really?
Even more surprising than the song's smash status despite its decidedly un-poppy protagonist"that troubled kid contemplating a shooting spree"is the fact that it's created barely a ripple of controversy throughout its lengthy chart run. Did the clever lyrics fly over the heads of the country's guardians of morality and decency in songwriting? Were we all just too lost in the beat to notice the finger on the trigger?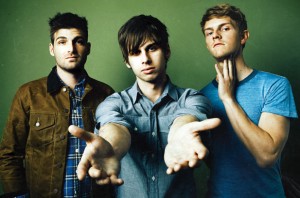 Or perhaps for the first time since the second British invasion of the 1980s brought such alternative pop acts as Duran Duran,
Depeche Mode and indie-pop pioneers the Smiths into and around the mainstream, both the masses and the pop-music establishment (radio and retail) are ready to support music that touches on more complex subject matters than "dance music sex romance""to quote a track on pop iconoclast supreme Prince's 1982 album, 1999, one of the records that launched the censorship wars of the early '80s that would hardly raise an eyebrow today.)