With record labels in a precarious spot, many up-and-coming bands have been turning to crowd funding as a way to raise money for touring, recording, merch production and more. Major artists have taken note, with acts like Secondhand Serenade and The Voice's Nakia using the "rewards for pledges" model through sites like Kickstarter, ArtistShare and more.
Shortly after their long-awaited reunion, Ben Folds Five decided to test out this innovative new platform to help fund their first record in thirteen years. In exchange for donations, the band is not only offering prizes like signed vinyls and t-shirts, but they're also helping to promote the music, art, videos of their fans. They've even offered to call each fan who downloads their new song "Do It Anyway" or makes a pledge a Vice President of Promotions for their de facto record label, encouraging them to add "#ImaDamVP" on the end of their promotional tweets. We caught up with Ben to discuss the progress of the campaign, Kickstarter goddess Amanda Palmer and why we should help fight for continued arts funding.
OS: How is the record progressing? Can you estimate a release date at this point?
BF: I think we should be doing this in early September. Sometimes we're late, but I think that should do it!
OS: Why did you choose to use a pledge model for funding this record?
BF: Looking at all our options, we had spoken to PledgeMusic a couple months ago. We thought that no matter how we do it, we may include that route, somehow. Last weekend, we started realizing, "Well, we're going out on tour and it would be fun to put out something we recorded," because we're excited about what we've recorded, but we're not on any kind of label or anything. We put it out free on a couple fan sites, which crashed pretty immediately. The next day, there were about 100,000 downloads out there. We thought, "Oh shit, we gotta put the record on sale." You can't be promoting it and then not pre-selling it too. The industry's already screwed up enough as it is without shooting yourself in your own foot. We scrambled the next day to get it up and Pledge had been someone we'd been talking to, and we just did it.
OS: What made you choose PledgeMusic over other services, like Kickstarter or ArtistShare?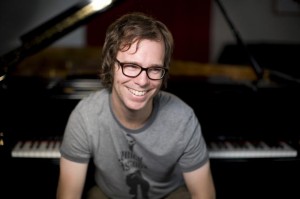 BF: I don't know much about all of them, so I'm not good about shopping around. But what was compelling to me was that, in our position, I didn't think it was really necessary to flash the sales number. That's the way Kickstarter does it, Amanda [Palmer] did it that way and it's been really great.But I play these things by feel, and that didn't feel right to me. I likened it to sitting in a restaurant where, next to the food, the tally is turning over while you're eating to see how much money is going to the restaurant…it's not necessary to know that. But I think it's really interesting, especially with Amanda Palmer's campaign…it gives people an insight.