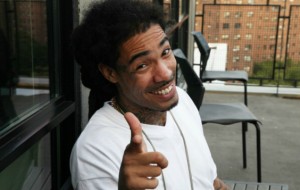 Maybach Music Group member Gunplay has been having a rough couple of weeks. First the ascendant rap star was involved in a dust up with some of 50 Cent's entourage at the taping of the BET Hip-Hop Awards.
Unpleasant as that may have been, the legal imbroglio that Gunplay finds himself currently involved in probably tops that. Gunplay, born Richard Morales Jr., turned himself in to Miami authorities on October 11th for robbery, aggravated assault, and assault with a deadly weapons charges.
The warrant for Gunplay's arrest stems from an incident last April involving an accountant, a pistol, and a man that looks a lot like Gunplay. TMZ got their hands on damning footage of the whole episode over the weekend which you can watch after the jump.

It's been quite a year for T.I. An early prison release followed by a quick return to the slammer followed by another early release and ANOTHER turn around trip to prison before heading home to his beloved family, friends, fans"and film crew.
The self-proclaimed King of The South has had a tumultuous and somewhat ironic journey to the top and the bottom, and may now end up somewhere in the middle. T.I. first headed to prison on gun charges; but only after he filmed a reality special aimed at keeping kids out of trouble.  The next time he wound up in the hot seat, (this time for a parole violation) he conveniently saved a suicidal fan from jumping off a building by literally talking him off the ledge.  Upon his release, Tip wasted no time jumping back into the limelight. He has already filmed another reality show for BET, T.I. & Tiny: The Family Hustle, which started rolling the moment he stepped off the prison grounds.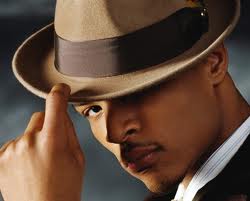 He was greeted with open arms just days after his release at the BET Hip Hop Awards, where he kicked off the night's festivities by hitting the stage for a performance ofI'm Flexin' alongside Jeezy, spitting lyrics that described his current sentiments. I been out of sigh been out of mind¦another year of prison promise this is it for me trying to make It through the storm should be makin' history. No feeling sorry keep your pity and your sympathy good or bad take it like a man whatever meant to be.

On November 9, Nashville celebrated itself (again!) with the Country Music Association (CMA) Awards. For the fourth consecutive year, the event was hosted by Carrie Underwood and Brad Paisley, but the masters of ceremonies weren't the only thing that gave me that old deja vu feeling. Hadn't these accolades already been handed out just a few months ago?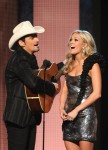 Wait, those were the Country Music Television (CMT) Music Awards in June. And before that, there were the Academy of Country Music Awards. And, just in case that's not enough Music City honors for you, there are the 2nd annual American Country Awards coming up on December 5.
Pop and R&B are just as self-congratulatory, offering the MTV Video Music Awards, the MTV Europe Music Awards, the Billboard Awards, the American Music Awards, the Teen Choice Awards, the BET Awards, the BET Hip Hop Awards, the NAACP Image Awards and the Soul Train Music Awards.
Then, of course, there are the GRAMMYs, which following so many other back-slapping fests, have been losing their lustre for years now"though that's hardly the only reason. Winning one used to be the musical equivalent of snagging an Oscar, but now its just more clutter for the awards shelf.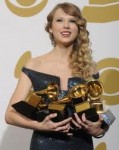 In a few weeks (November 30, to be exact), the National Academy of Recording Arts and Sciences will announce the nominees for the 2012 GRAMMY Awards (to be held on February 12). Doesn't it already feel like we've been there and done that over and over and over already this year? Am I the only one who doesn't doubt that we're in for another repeat of The Adele Show, with a very special appearance by Lady Gaga. Good as it is, like Christmas, I only need to sit through it once a year.