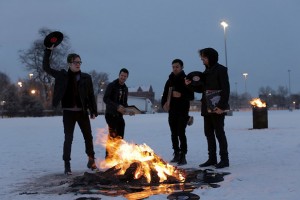 We are all familiar with horror films that feature people running for their lives through wooded areas in the dead of night. The entity chasing these protagonists are often a maniacal killer or never-before-seen creature, but in the latest from Fall Out Boy, the band of baddies are of a much smaller variety.
Throughout 2013, Fall Out Boy have been releasing music videos for their album Save Rock And Roll that carries a fluid theme of violence and danger. Chapter 5 of this series, otherwise known as "The Mighty Fall," finds the members of FOB being chased through a roadside forest by a band of mischievous teens armed with deadly weapons. They get separated, as all frightened groups at night do, and one by one fall victim to the villainous teens. You can view the video below.
If you pay close attention to the second half of "The Mighty Fall," you'll notice a reference to Michael Jackson's "Thriller" that may hold a clue to what fans can expect in Chapter 6.
Save Rock And Roll is available now. (more…)