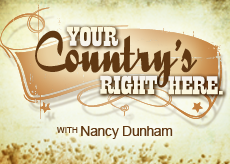 Just when you start to yawn over proclamations that various critics have found the "next big thing" in country music, along comes Joanna Smith and shows you"yes"that is clearly true sometimes.
You've likely heard Smith's new single "Georgia Mud" that had its radio debut February 7th, or read critics at Billboard Magazine, Variety and Roughstock proclaim her musical potential.
But we all know that the airwaves are filled with one- or two-hit wonders so we decided to find out if Smith is the real deal. The bottom line"Yep, she has her head on straight, knows her stuff and has the chops. But don't take our word for it. Check out some of her straight talk in the interview below:
OS: So how does it feel to have all these major music critics single you out as an up-and-coming musical powerhouse?
JS: You know what? It sounds so cliché, but I'm just enjoying the moment. I really don't have time to celebrate because I'm so busy, but I do want to savor it. This is what I've waited for, the opportunity to play music. This business is filled with fleeting moments and I'm just trying to strike while the iron is hot. That means I need to stay as busy as possible. When you love what you do, it makes it fun.
OS: I've read that you grew up in Georgia on a pretty steady diet of Reba McEntire, The Judds and Dolly Parton. I think you were so brave to move to Nashville and try to make it big. How did you start?
JS: When I first moved to Nashville, I was too young to get into the honky tonks. I thought writing would be my way in. So I took odd writing jobs and looked for publishing deals. I competed in a talent contest (in 2006) and got to open for Glen Campbell at the Ryman. Then I got a regular gig at Tootsie's. I started playing down there and it was quite an experience.
OS: The talent contest had to be unnerving.
JS: The talent contest wasn't quite as bad as signing at the Ryman. I was very new to town, relatively speaking. I had experience performing but to sing at the Ryman"I didn't feel worthy. I was so nervous, but my mom and dad said it didn't show. It was such a whirlwind.
OS: How did your parents react to you pulling up stakes, leaving behind a college scholarship and moving to Nashville?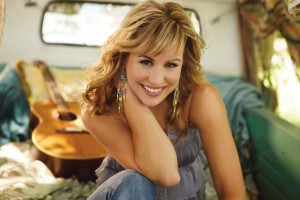 JS: My parents freaked a little bit. My mom more than my dad. My dad was a little calmer because he had his own [musical] dream. I had to leave a scholarship at Auburn University to do this. But I have always known this is what I've wanted to do and my parents have been extremely supportive.
OS: Did you know anyone in Nashville when you arrived?
JS: I really didn't know a soul. I knew one person, Luke Bryan, and at the time he wasn't as well known as he is now. He is from the same place that I am. When we were younger, he'd come over [to my parents' house] to go fishing with my dad. He thinks of me like a little sister. He was wise about the music business and he wouldn't let me get in any trouble. He'd be honest when I asked him about opportunities and people, but he let me fend for myself.
Luke let me come over to his publishing company and showed me around, introduced me to people. That's how I did it"I built my circle and met more and more co-writers and wrote better and better songs and signed a publishing deal.
OS: Tell us about your new single "Georgia Mud."
JS: I love that song. It is one of those songs that has a very fresh melody and is enjoyable for a singer to perform. I never get tired of singing it. It's about where I'm from and about lingering love and first loves that are hard to get over. I think everyone can relate to it although it is set in Georgia. It's written sort of like a mini movie.
When I sat down with the two co-writers to write the song, they wanted to write a song about Georgia. I was sitting there politely trying to figure out the best way to tell them that I couldn't write another song about Georgia. But then one of them threw out a riff and it went from there. This might be the best Georgia song ever.
OS: Was the song easy or difficult to write?
JS: It was super easy. Sometimes you have to work really hard at them but we didn't with this. I am very lyrically minded. I love words and love to read and so [when my co-writer] started saying "bare feet hanging off a tire swing," well, I used to have tire swing in back yard that I loved. It went from there.
OS: Perhaps a good way to wrap up a bit is to compare the first time you played the Ryman to last November when you sang your own song "Getting Married," and the classic Tammy Wynette tune "Stand By Your Man" at Tootsie's 50th Anniversary celebration there. Tell us about that.
JS: Things moved so quickly. They had a full red carpet out and flashbulbs going off everywhere. I just figured I'd strike a quick pose and then try to figure out what celebrities are there. I met Kris Kristofferson and Mel Tillis, which was so great.
When your career takes off and you're just getting started you don't have a lot of time to prepare (before you go on stage). You get there, get your eyelashes on right and it's time.
I just figured I was there and I'd savor the moment! I loved it.
Joanna is scheduled to perform with Kenny Chesney and Carrie Underwood on April 30th at the Stagecoach Festival in Indio, CA.
For more information about that concert, her upcoming album or other news, check her website.