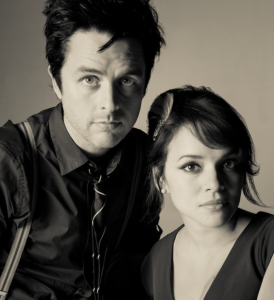 The sweet, timeless, close harmony awesomeness of the Everly Brothers is compelling bait for musicians. The material has been covered time and again by notable fans of the duo, whose string of hits in the '50s and '60s place them forever among the greats of early rock and roll and influenced generations of songwriters. Look no further than the classic "Love Hurts," recorded first by the Everlys and hundreds of times since, including hit versions by Roy Orbison, Gram Parsons and Emmylou Harris, Nazareth, and Joan Jett.
That bait was enough to bring together two unlikely bedfellows – Norah Jones and Green Day's Billy Joe Armstrong. The pair leave their trademark smooth jazz and pop-punk stylings, respectively, at the door to pick up where Parsons and Harris left off, delivering a tribute to an entire album, 1958's Songs Our Daddy Taught Us.
Man, did we want to make fun of this. But we can't. It's too good, too faithful to the music and too full of the natural gifts of these two artists to be dismissed. Check out the first track being streamed by Warner Bros, along with a lengthy Q&A with Jones and Armstrong, over at Stereogum.