Facebook is continuing its push to corner the market on social music. Web media blog Mashable reported last week that Facebook was introducing 'Listen With', a new piece of functionality to go along with your Facebook-linked listening experience that allows you and your friends to play DJ for one another.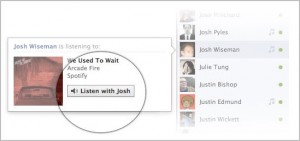 Here's how it works: When someone is listening to a song through any number of the Facebook linked online streaming services (Spotify, Rdio, Mog, etc), a link will appear next to their profile in a user's mini-feed. Any one of that user's friends can click on the link which will not only start playing the song but place them at the exact point in the track that their friend is at.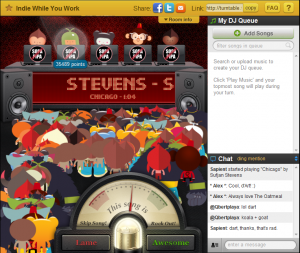 DJing for one another, little listening parties between you and your closest Internet friends, does this all sound familiar? It should if you've ever heard of turntable.fm, one of the first en-masse online music sharing services. That's not to say that Facebook's 'Listen With' is a clone. For one, turntable.fm's proprietary design"an artistic representation of a room with user's avatars proposing and selecting songs at tiny turntables"would be hard to borrow from without copying directly. That said, the connection is obvious. Nearly any mention turntable.fm has received in the press in the past few days have linked the service to Facebook's 'Listen With'.
Social music seems to be the future and while every social media service or platform might think that it is their manifest destiny to control how we share and consume music, no clear winner has emerged yet. While Facebook was fine tuning their music sharing service (and losing the benefit of free, unlimited streaming service that partner Spotify has provided since its stateside debut), Twitter and Tií«sto teamed up to stream the Dutch producer's set at CES 2012 live"a first for the microblogging service"and the aforementioned turntable.fm had electro DJ Steve Aoki exclusively debuting new songs in one of the listening rooms on the site.
So will 'Listen With' be the turntable.fm killer that some are making it out to be? Probably not. For one, the 'Listen With' feature lacks the truly communal element that turntable.fm provides. Besides, are your friend's tastes in music really so great that you would want to go on a musical trip with them? Do you trust the tastes of many of your Facebook friends? The fatal flaw of Facebook's 'Listen With' is that it lacks quality curation, a key attribute of every vital online media sharing/discovery service. This point was remarked upon by Billy Chasen, one of turntable.fm's co-founders. "I'm flattered Facebook was inspired by turntable.fm and created a listen together feature," he says in a recent Techcrunch feature. Chasen goes on to say, "I look forward to seeing how they interpret what social music means as we seem to have different core philosophies about it."
Besides, the would be rival services are also bedfellows; turntable.fm is one of Facebook's partner services and will be sharing listener plays in Facebook's timeline in the near future. If anything else, 'Listen With' illustrates what the Internet is circa 2012, where rival services striving for the same market niche are partnered with one another.