The Good
President Obama is sexy (and he knows it)
Who woulda thought that President Obama was such a big LMFAO fan? Turns out he's been surreptitiously dropping lyrics to Sexy and I Know It into all his speeches. As long as he doesn't collaborate with Madonna, we're OK with it. Watch the Commander in Chief bring sexy back below.
Deadmau5 taps fan to collaborate
The Internet has elevated many things to a whole new level: spying on your exes, indulging your cat obsession and, in this case, interacting with your favorite musician. Deadmau5, otherwise known as Joel Zimmerman, streamed an unfinished track on his Web site to give fans a listen to the songwriting process. One industrious follower tweeted the DJ a vocal track, and Zimmerman liked it so much he promised to add it into the song. Oh Internet, will your powers ever cease to amaze? Watch the magic happen below.
The Bad
Jerry Lee Lewis marries for seventh time, to cousin's ex-wife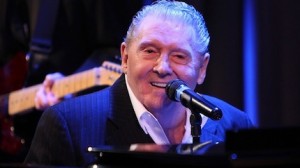 File under gross: Jerry Lee Lewis, who is now seventy-six years old, got married to his seventh wife ¦ wait for it ¦ who also happens to be the ex-wife of his own cousin, Rusty Brown. But there's more! Cousin Rusty is the younger brother of Myrna Gale Brown, who married Lewis when she was only thirteen years old. Lets hope this latest dysfunctional marriage cools those great balls of fire once and for all.
Earl Scruggs dies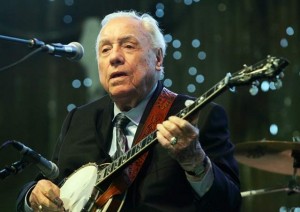 Bluegrass pioneer Earl Scruggs passed away this week from natural causes at an area hospital in Nashville. He was eighty-eight years old. Scruggs, along with Bill Monroe and Lester Flatt, formed the most influential bluegrass acts of all time"the Blue Grass Boys. Scruggs is credited with popularizing the three-finger style of banjo playing. He went on to play with Flatt in the Foggy Mountain Boys (later known as Flatt and Scruggs). His hits"which include the theme song to The Beverly Hillbillies and Bonnie and Clyde"helped bring bluegrass to mainstream audiences. R.I.P.
The Ugly
Wayne Coyne bleeds collaborators for Record Store Day release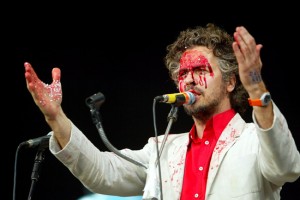 For his upcoming Record Store Day release, entitled The Flaming Lips and Heady Fwends, Wayne Coyne wasn't content to give fans his figurative blood, sweat and tears. The Flaming Lips front man is including his actual blood as well as the blood of his collaborators on the vinyl and packaging of the record. That means folks like Yoko Ono, Bon Iver, Ke$ha, Biz Markie, Chris Martin, Erykah Badu and more will be donating a sample to this bio-hazardous album. Handle with gloves, people.
Bobby Brown arrested for DUI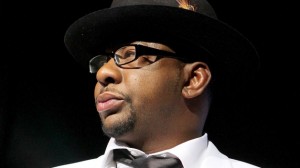 Bobby Brown was charged with two DUI counts and a misdemeanor charge of driving on a suspended license after cops pulled the singer over on Monday. Brown faces up to six months in jail if convicted. His court date is scheduled for April 16. Our advice? We think Brown should pack up his group, get a grip, come equipped, grab his proton pack off his back and then split. Oh wait, that only works if you're a Ghostbuster.
Miscellany

A friend of mine suggested some good ground rules for this one: You have to strip out covers of old blues tunes (sorry Stones and Beatles). Also strip out cover bands (sorry Joe Cocker and Nouvelle Vague) and cover [tribute] albums. He suggested "Police & Thieves," with which I concur, as well as Souxie And The Banshees' "Dear Prudence," with which I do not. This could still be a huge, huge list, but these are some of the very best, in order.
10. Benny And The Jets " Beastie Boys w/ Biz Markie (original by Elton John)
Benny And The Jets is my least favorite of Elton's hits (I'm not counting anything after 1989, cause why would I?), but it is given a reason for existing here by The Biz, who was fucking around in the studio with The Beastie Boys, checking out old records, and decided to cut this version, where he slurs lyrics he clearly doesn't know, ridiculous crowd noise included. Hilarity ensues.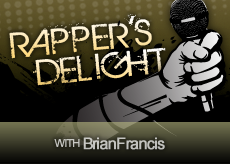 New Jersey has been taking a lot of heat since the Jersey Shore craze swept the nation but we can't let this bad rap overshadow the amount of awesome hip hop that the Garden State has produced: Redman, Ice T, Biz Markie, The Fugees, Akon and Naughty By Nature, not to mention the originators of hip hop itself: the Sugarhill Gang. And now, budding OurStage artist, and Trenton's own, Bub Luv is emerging on the scene. Born Jabbar Weir, Bub Luv picked up his name from his childhood nickname, Bubbie, and his reputation as a ladies' man. His potent way with words developed and led to rapping by the age of eighteen. Once this seed had been planted, it grew fast and manifested in a career as a talented emcee.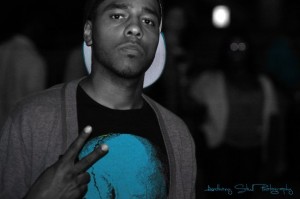 Bub's first big move was starting a company, along with two friends, called Mad Lights. Bub, his manager CJ Burnett, and their business savvy friend "Nuck" Gittens created this diverse company with the intention to sell music, clothes and put out films"there's even a sports section on their site with skate videos. They've since released a mixtape, called All I See Is Mad Lights, played a handful shows and scored a spot in the Trentonian Newspaper.
Needless to say, we're excited to have Bub on OurStage. He's made an impact on both our Alternative Hip Hop Channel and Best of Urban charts. More importantly, he finished fifth in our Hip Hop Channel in March and he's doing exceptionally well in our Coors Light Search for the Coldest: North Channel right now. No easy feat since there are over a thousand entries in hip hop and nearly five thousand submissions in Coors North. Bub's lyrical style emulates Nas and Jay Z, with a bit of Big Pun mixed in. That's a pretty deadly mix. His beats aren't lacking either, with catchy riffs and an inherent rhythm that forces you to bob your head whether you want to or not.
We posted some of his impressive tracks below. Don't miss out on this rising star!