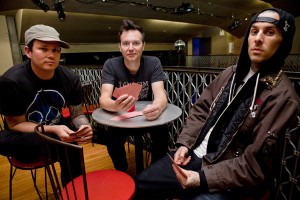 Blink-182 are at the top of their game right now. Having released a best-selling album a year ago, the trio is currently in the midst of another sold out tour, and this morning they indicated that 2014 will be even better.
Speaking openly with Yahoo! in a new interview, Blink-182 finally opened up about their long-rumored plans to release more music. According to the band they are currently in talks with various label and producers, but they are hopeful new music will be available to fans at some point within the next year. You can read an except from the article below:
So next year there will be a new record?

Hoppus: Yes.

DeLonge: That's the plan.

Do you have a producer?

Hoppus: No. We're talking about it but we haven't decided on anyone yet. This whole tour, this whole experience is about getting ready for that next record. We've been meeting with labels, we've been talking about producers, trying to figure out internally what the plan is for Blink.

Do you think you'll go to another big label?

Hoppus: I don't know. We're keeping our options open. We're meeting with some labels.

DeLonge: We're not against it.

Hoppus: We're not against it. If it's the right label and the right partnership and the right vibe or we could do it ourselves or use a distributor. There are so many options for bands now.

DeLonge: There's not just like be completely independent or be on a label. There are many shades of grey so you can use labels for parts of what you need or you can hire services. It's a lot of options. We're not opposed to any of them."
Blink-182 performed  over the weekend at Riot Fest Chicago. Footage of their performance can be viewed at the end of this post.
We will cover the production of Blink-182's album in the months ahead and will let you know the moment new information becomes available. Follow OurStage on Twitter and Facebook for the latest music news and information. (more…)