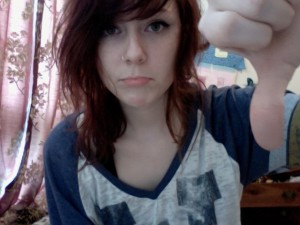 Moving at the speed of hype, 17-year-old Daytona Beach, FL native Kitty Pryde has been taking over the internet at a breakneck pace. Taking her name from a character from the X-Men comics, Pryde is the latest in a string of female MCs who have come to prominence in the past few months including Azealia Banks, Iggy Azalea, and Kreayshawn. The "jail bait Hailey Williams of Rap," Pryde has also drawn comparisons to hipster songbird Lana Del Rey; both seemingly came out of nowhere and have built buzz with the tumblr crowd thanks to a handful of woozy youtube videos.
Pryde's output has been scant so far. That said, having a lone EP, The Lizzie McGuire Experience, and two singles to her name hasn't gotten in the way of her rise in popularity. With write-ups in The Fader, Vice, Pretty Much Amazing, Idolator, and many more in the past two days alone, her ascent has been dizzyingly fast.
Watch the video for her latest single "Okay Cupid" and see what all the fuss is about.