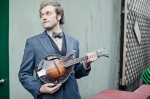 It seems only fair to say that most creative individuals would love the opportunity to pursue their passions and add to the creative circuit in one way or another, particularly without the worry of tight funds. Enter: The MacArthur Foundation Genius Grant.
This five-year grant offers extraordinarily talented individuals $500,000 to pursue their goals and passions with no strings attached. Who better to receive this prestigious grant than Punch Brothers mandolin player, Chris Thile.
After ignoring the foundation's attempts to contact him by phone, believing them to be automated election-year calls, Thile eventually got wind of their true nature.
"I've never felt so internally warm, Thile told the AP. My heart was racing. All of a sudden, I felt very askew physically. I was trying to catch my breath. . . . I thought, 'Oh my God, did I win a MacArthur?'"
He had. After finding success with Nickel Creek, Thile then assembled the Punch Brothers in 2006, finding success, and now prestige once more. So what are his plans for the money? Thile has said he may use the grant to fund a chamber music project for a bluegrass quintet.
You can find the talented winner on tour with the Punch Brothers through December.